In her shoes: Felicity Selkirk
she wear - 15th July 2022
Have you ever wanted to restore a run down 18th century château in the south of France?? Yep...us too!⁠ ⁠In this edition of the she wear In her shoes series, we meet an inspiring Australian woman (who together with her fiancé Tim) is doing just that! This is a story not to miss!!

Felicity Selkirk is an inspirational Aussie woman who moved to France, purchased the 105 room Château de Purnon (located in the commune of Verrue in the department of Vienne) and is restoring it to its former glory.⁠ ⁠We've been following Felicity's journey for some time now and watching in awe at the beautiful work they are completing.

It's a massive job, yet a wonderfully beautiful project. We hope you enjoy Felicity's story!⁠
Name: Felicity Selkirk
Profession: Project manager / renovator / restorer / whatever she needs to be
Role: Owner at Château de Purnon, https://chateaupurnon.com
She wears: She Achieves claret red safety boots, She Inspire Vintage Brown steel cap boots, organic bamboo socks, Flex and move cargo work pants and Flex and move short shorts.
The château is incredible! Please share the background story to this project. Where and how did this start for you?
My fiancé and I both share a passion for 18th century French architecture, art and interior design. We had been living on and off in Paris for 7 years and were ready for the next step in our life … and we were looking for a challenge! My fiancé had found an advertisement for a château for sale and for many years the conversation of restoring a château kept on coming up. Finally we decided to carefully consider what life might look like undertaking a project like this and finally, after visiting 16 properties, Purnon found us … it was love at first sight!
We were both excited and terrified at the same time. We moved in just as Covid was ravaging the world, and spent the first two years isolated from our families and friends back in Australia. Currently we are in the middle of restoring the château roof and facades, which will be a two year project, and once completed we will be able to start work on the inside … and maybe finally get a shower installed!
We'd love to hear a little more about the château itself - it's history, features, how you found it etc:
The construction of Purnon was completed just one year before the French Revolution started in 1789. During the revolution thankfully the family were able to keep the Purnon protected, however not without the loss of one of their sons during a massacre in Lyon.
The château has 105 rooms which are all in various stages of decay, with the entire second floor destroyed by water damage from the leaking roof. The château is flanked by two large outbuildings which include an extraordinary chapel, stables, tack room, boulangerie, 18th century laundry and various garages. There are also various ruins including a large mill which is older than the château and a lovely secluded potager.
Purnon sits on the edge of a forest and has a spectacular view of a 3km grand allée which extends out from the front of the property. There is a dry moat surrounding three sides with a stone bridge flanked by two lions which extends out to a large English park.
Having never been restored, much of the château and its buildings are in terrible condition and some buildings are already ruined. It will be our lifetimes work to save and protect her for generations to come
If we had to step into your she wear work shoes (pun intended!), tell us about a day in your life?
A rollercoaster ride of mixed emotions! Some days are thrilling with exciting historically important finds, or reaching incredible milestones in the restoration of the château to ensure it is saved for generations to come. Others are the exact opposite and present an unpleasant discovery or unexpected challenge.
"Some days are thrilling with historically important finds...others are the exact opposite."
What have you enjoyed most about the project so far? What is your favourite part?
The past two years have been an incredibly steep learning curve. The property is a classified historical monument so we have had to learn how to navigate our way through all the related requirements of working on such a property.
Although at times very overwhelming our life here is a huge adventure. Sometimes I look at the château and still can't quite believe it is our home.
Do you have any interesting experiences from your journey so far?
Winter is terribly challenging and uncomfortable. We have a small section which is heated, however it is often colder inside than outside and the roof leaks terribly during storms.
This year in the middle of winter the heating stopped working and we had to wait for repairs. After standing outside crying because it was too cold to go inside we sat in the car with the heating on to warm up and gather ourselves! It wasn't my favourite day here!
What is the most random/unusual thing you've found whilst renovating?
Oh dear my poor father come across an 18th century women's irrigation device just this week … I'll leave it at that!
Do you have a favourite saying or quote, or mantra that you live by?
The French say "jamais deux sans trois" which means never two without three. It's origins are not really known but it is often used when having a drink with friends. Whilst it's not great piece of philosophical work sometimes we just need a reminder to live a little and enjoy the moment without all of life's other burdens.
What advice would you give to other women considering a big project like this?
Sometimes we just have to follow our hearts and find a way to make our dreams happen, even when it makes no practical sense at all.
You're a big she wear supporter. What are your favourite products and why?
Hands down my She Achieves Safety Work Boots in Claret Red. I LOVE the colour, they are incredibly comfortable and the side zip makes them easy to get off when I'm exhausted at the end of the day. I love wearing them with my black and white striped bamboo socks which are super comfy!
Where can our followers see more about your journey?
We post a daily update on life at the château in our instagram stories: https://www.instagram.com/chateaudepurnon/
Our YouTube channel takes a more in-depth look at various stages of the project and the story of the château: https://www.youtube.com/channel/UCnmzb7b20gDRIDxWJMl6YTg
For more of a behind the scenes look at daily life, I post regularly on my personal account: https://www.instagram.com/flickselkirk/
Other links to follow:
Facebook: http://facebook.com/chateaupurnon
Website: https://chateaupurnon.com/
Thank you for sharing your story with us Felicity. What an inspirational woman you are!
What she wears....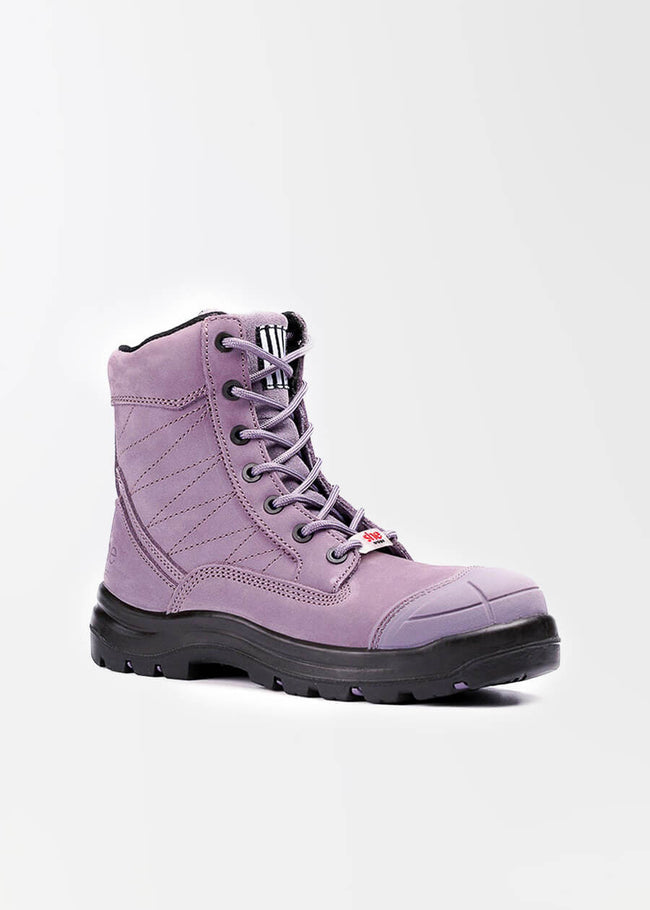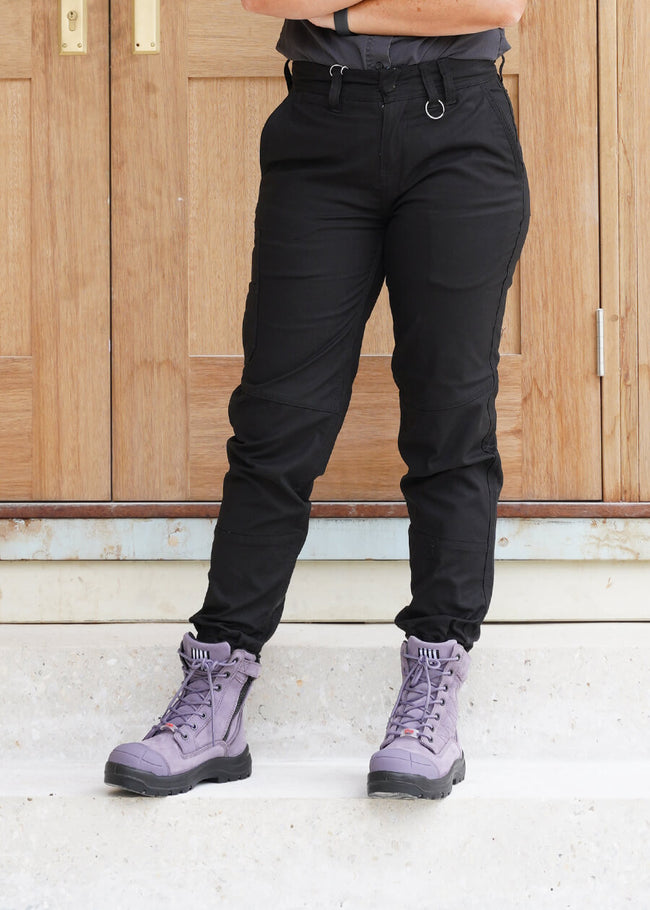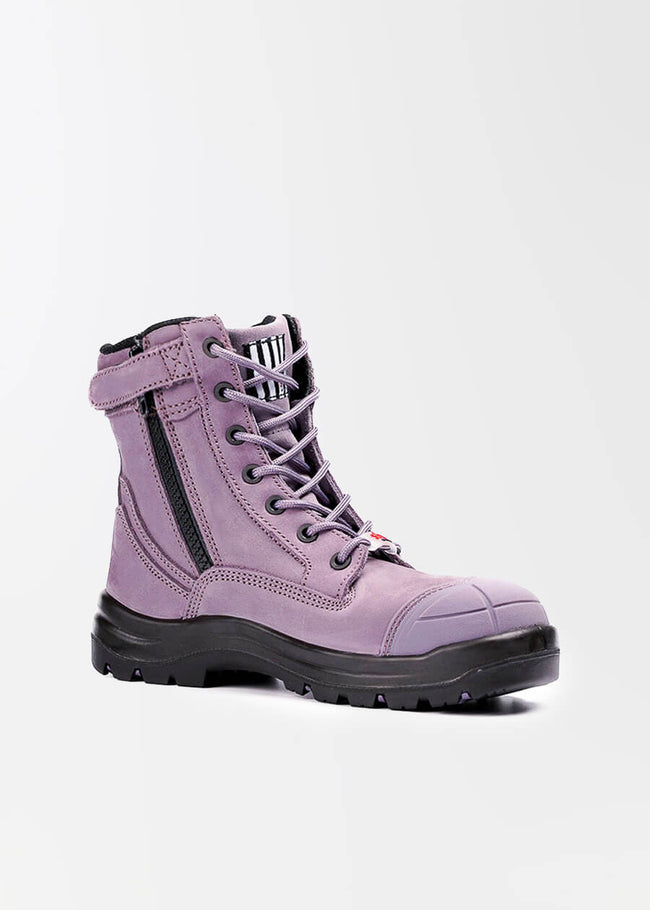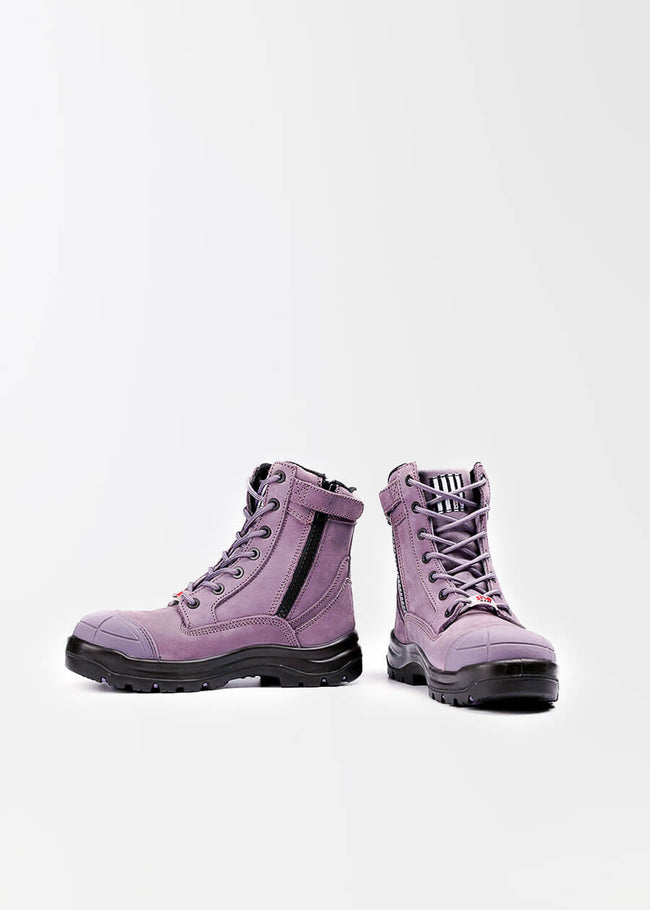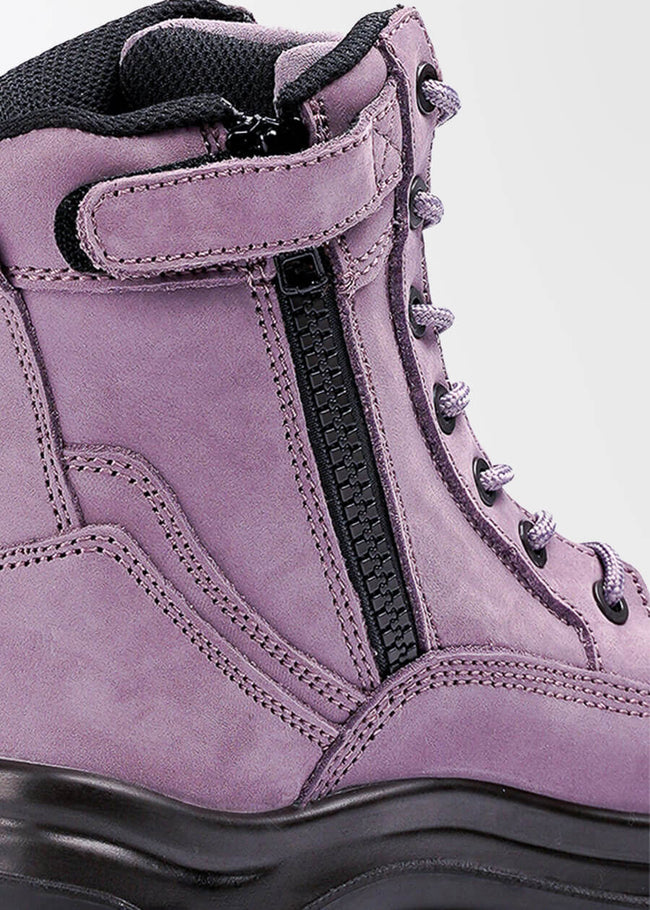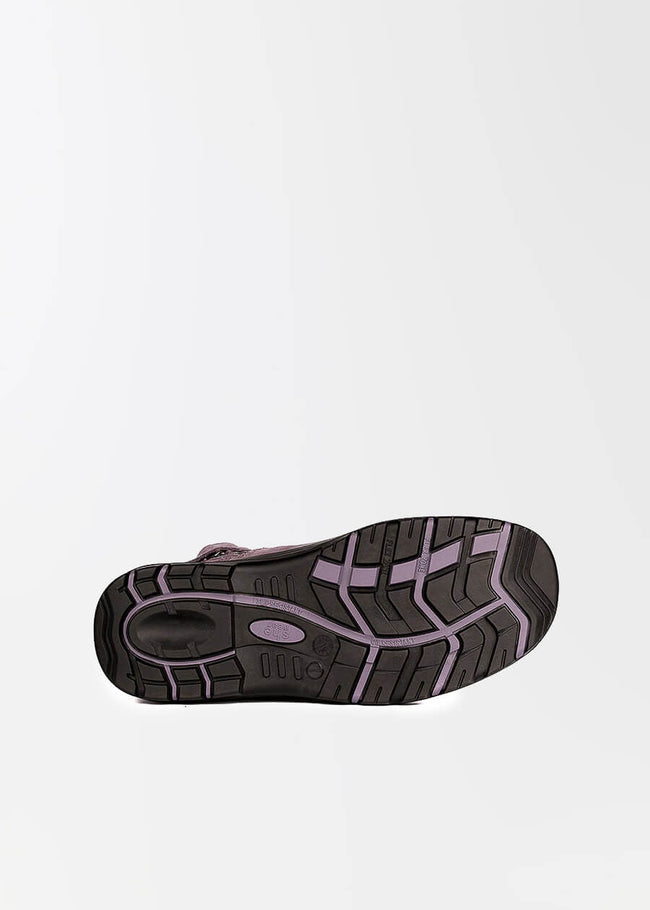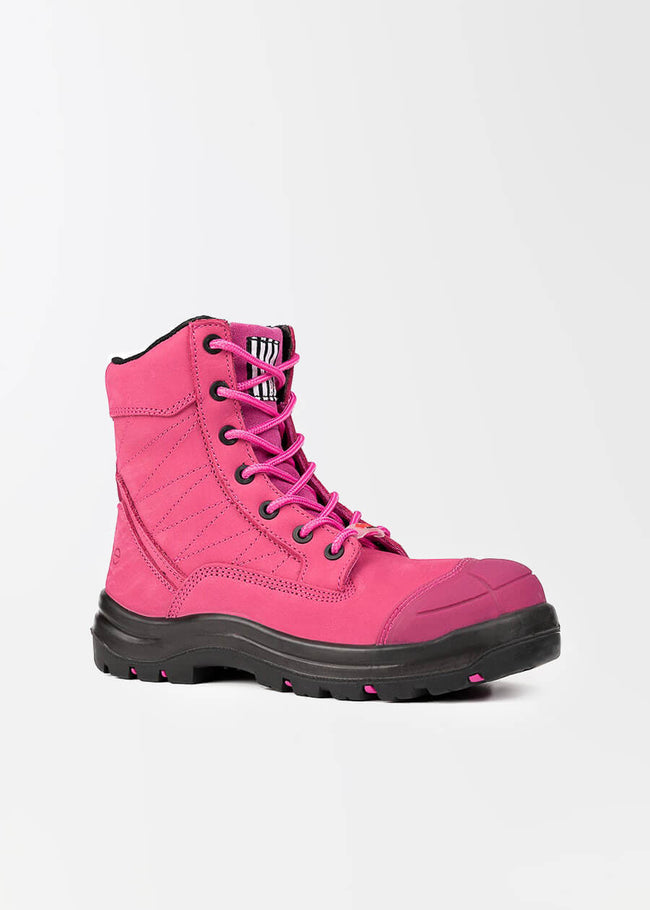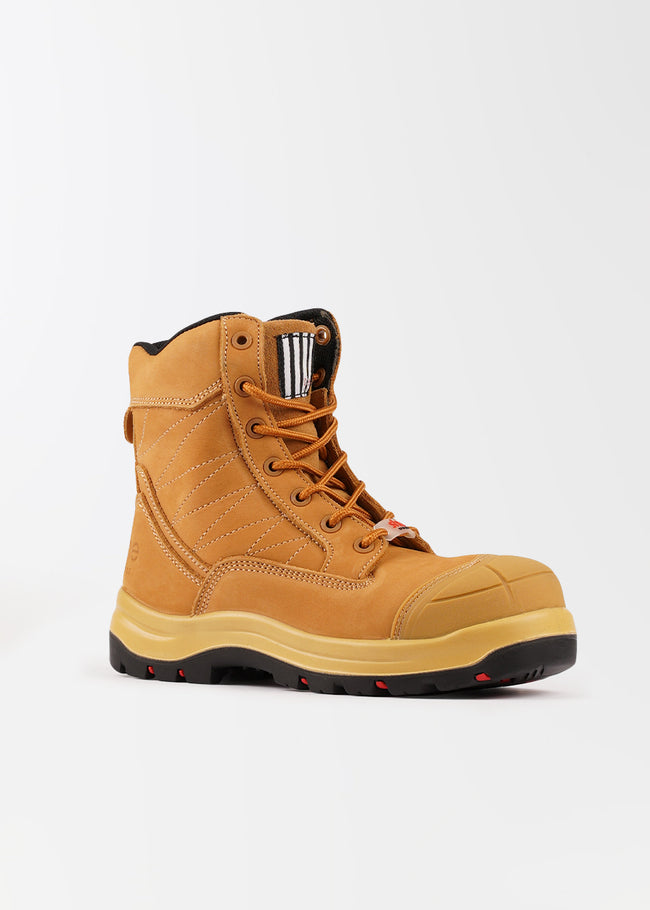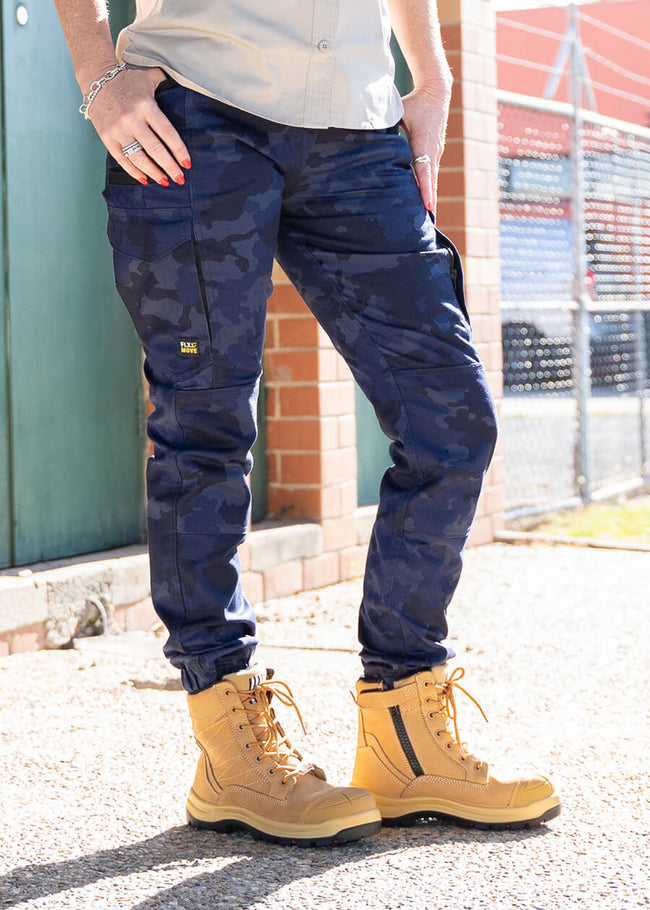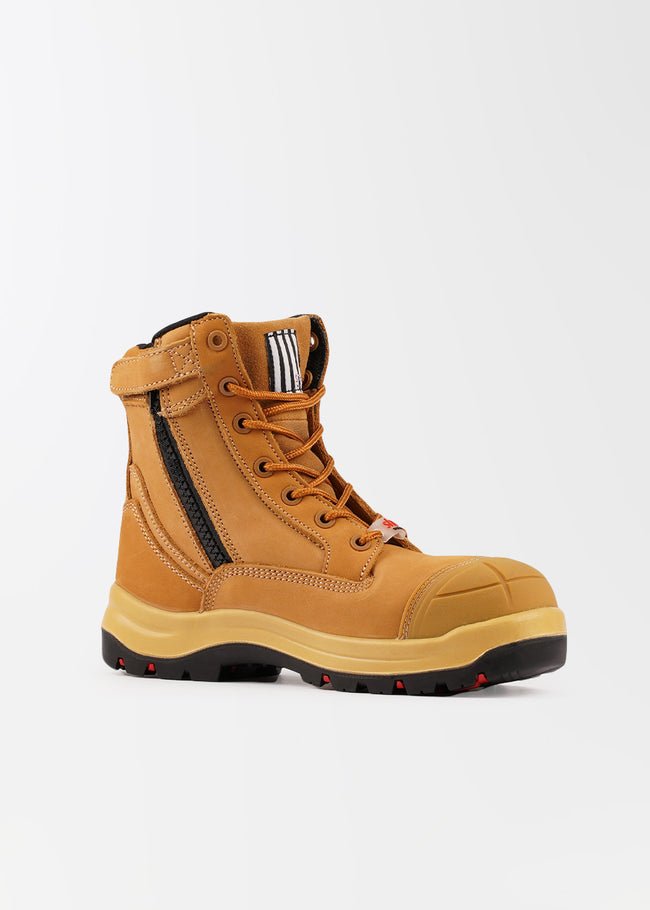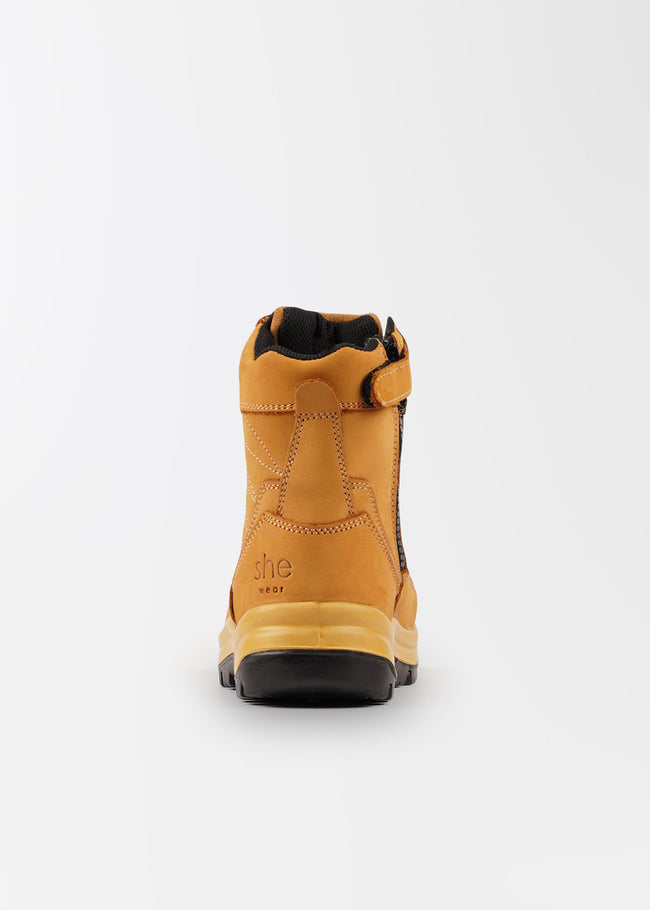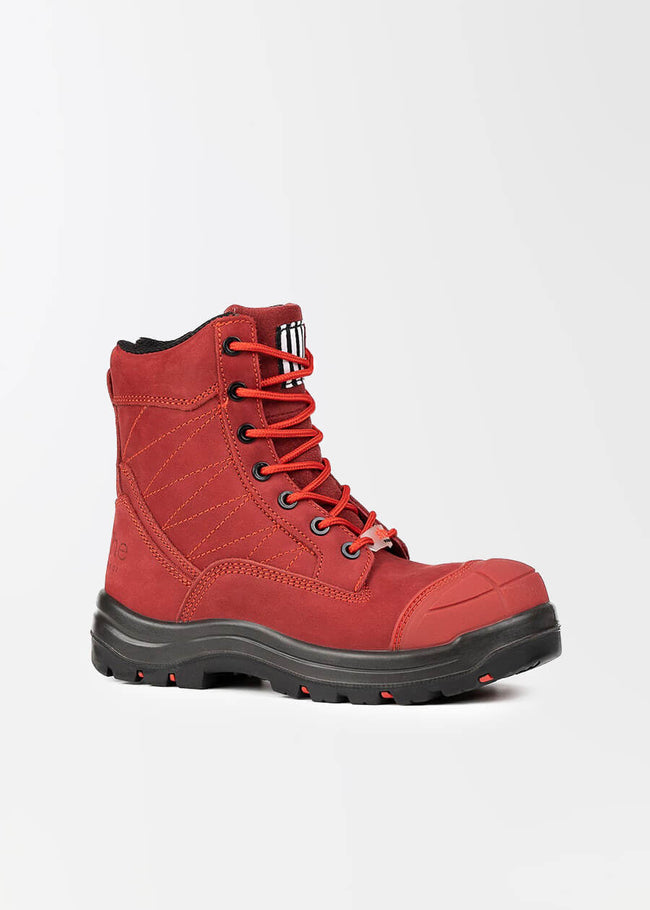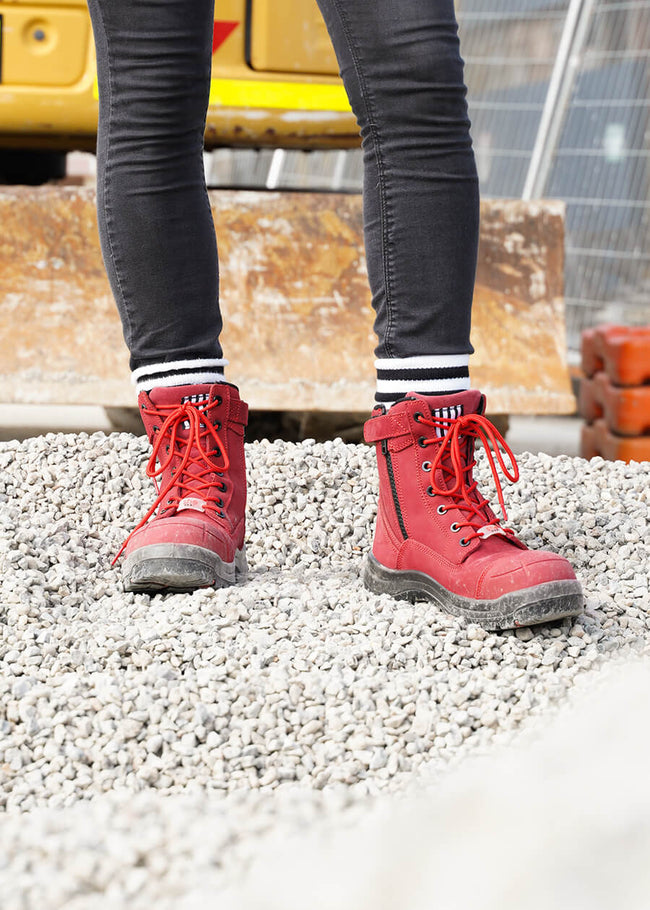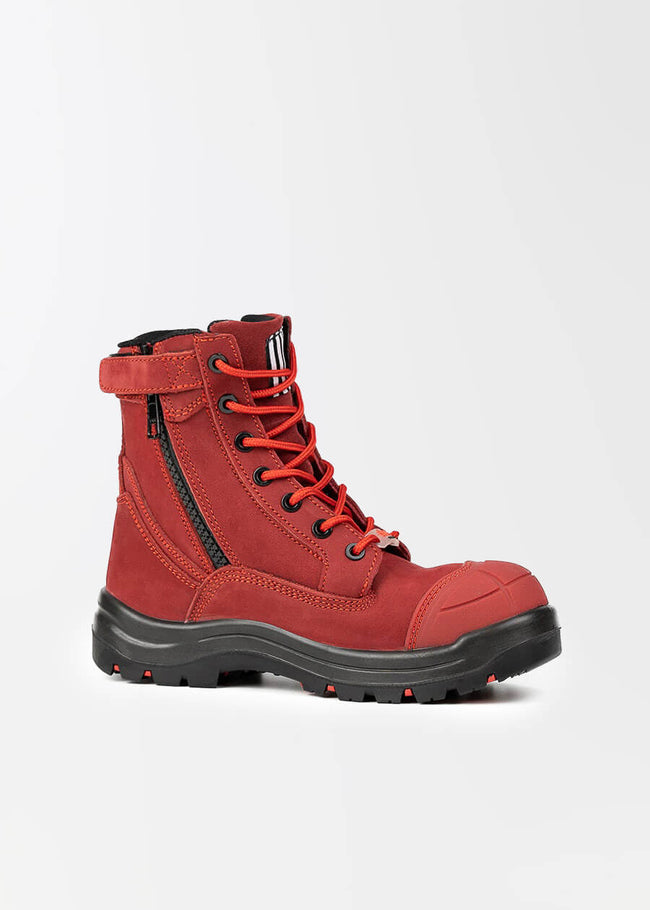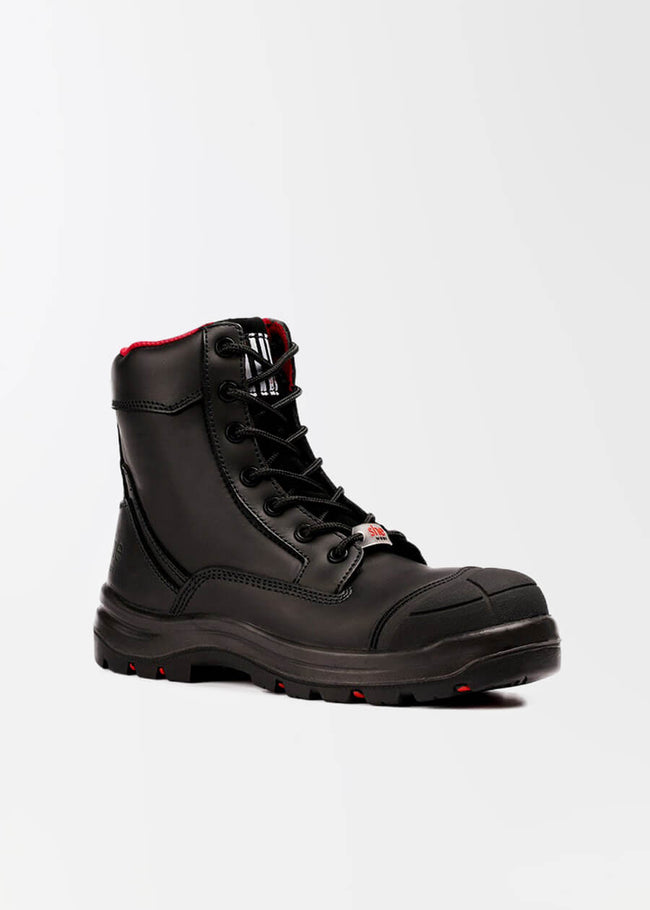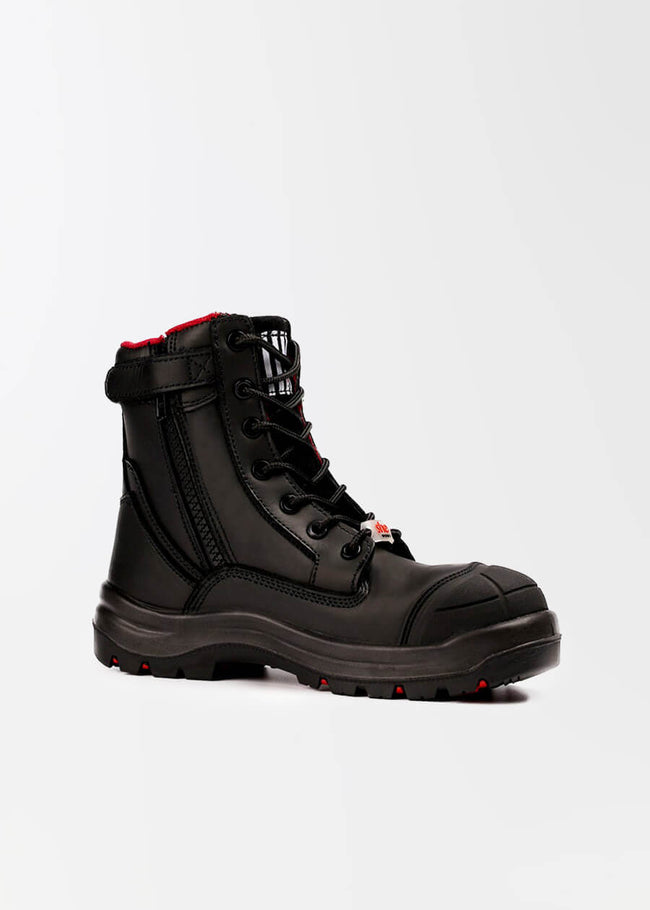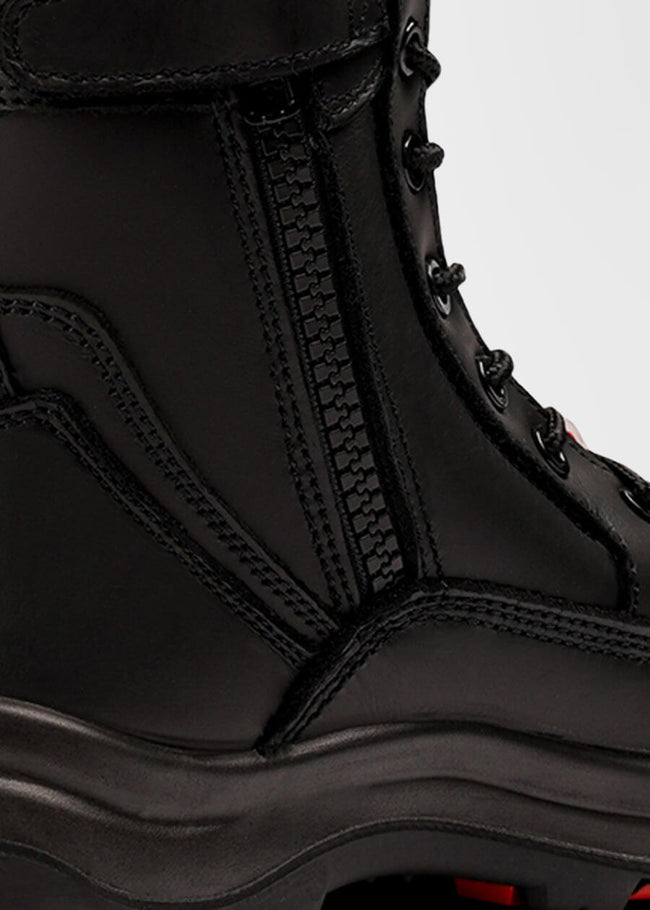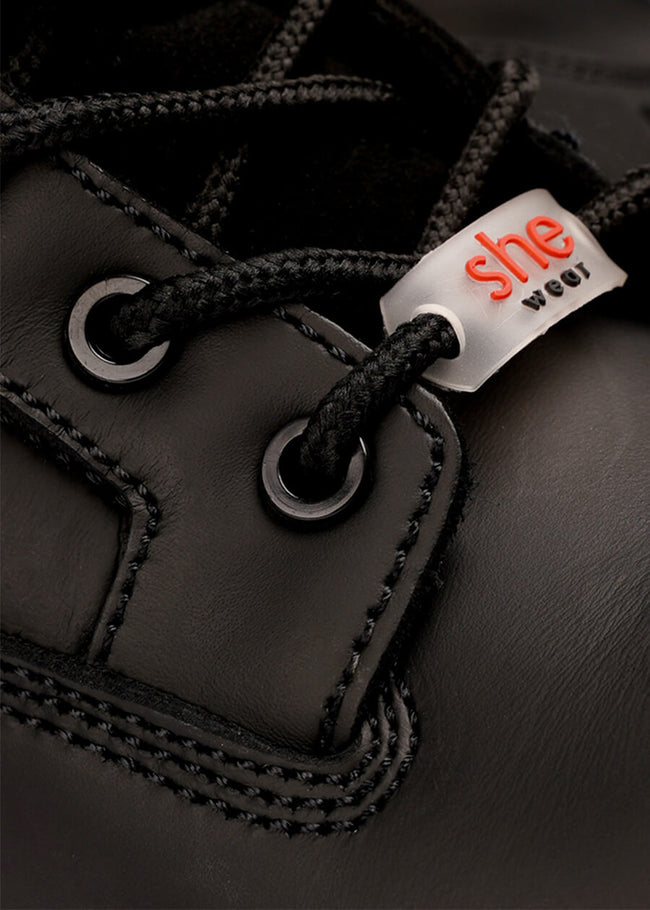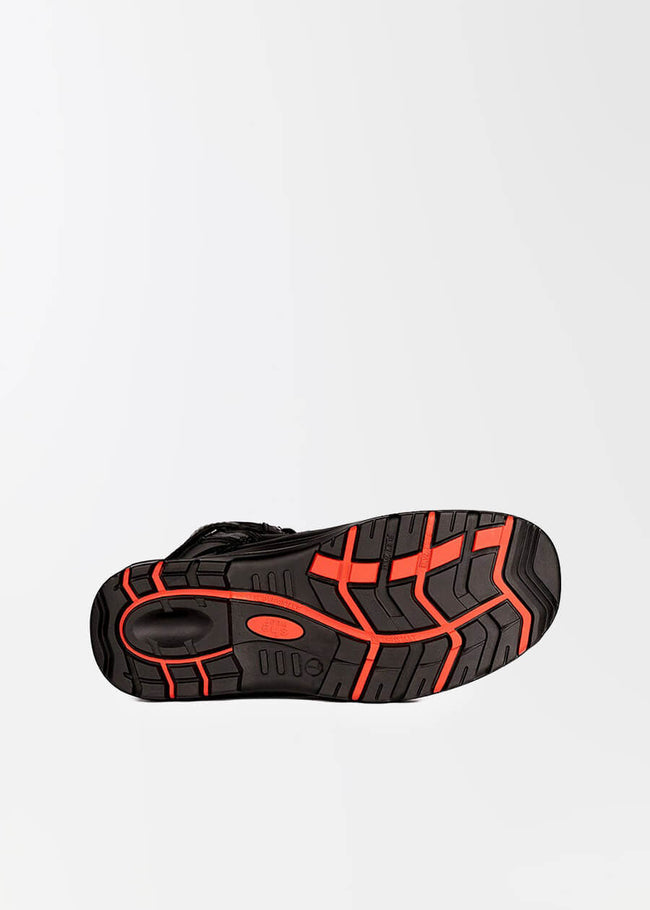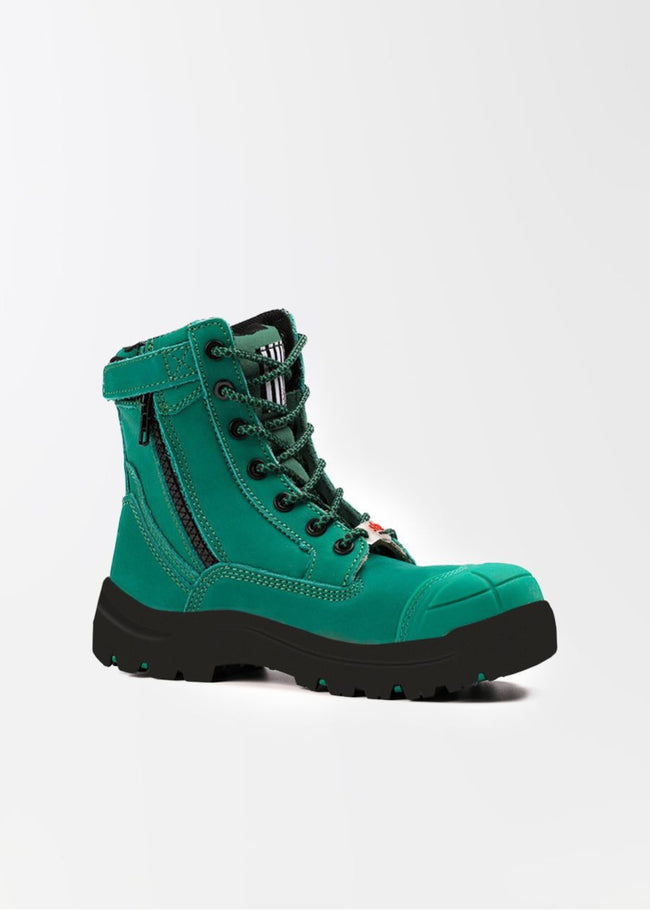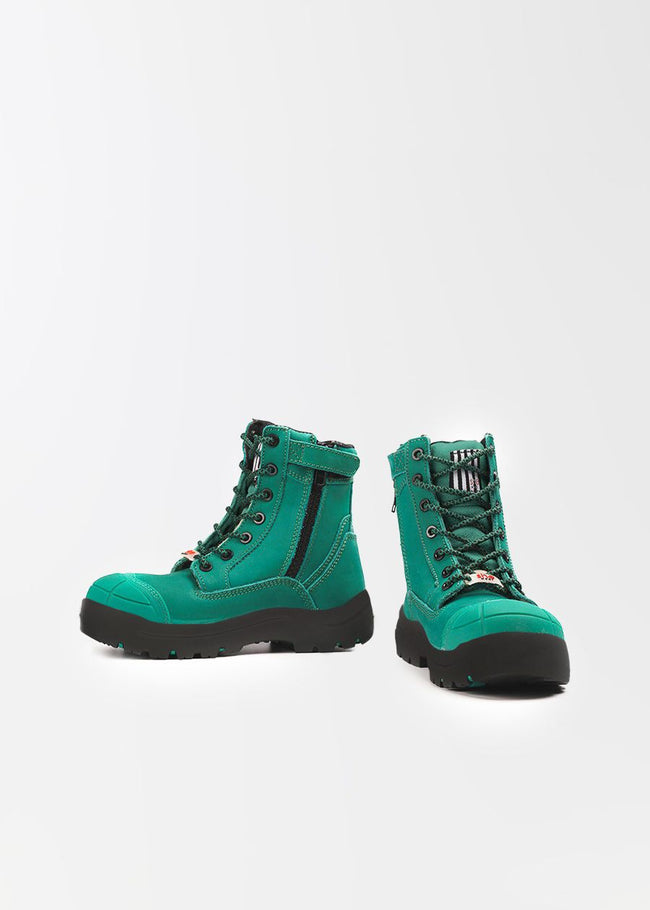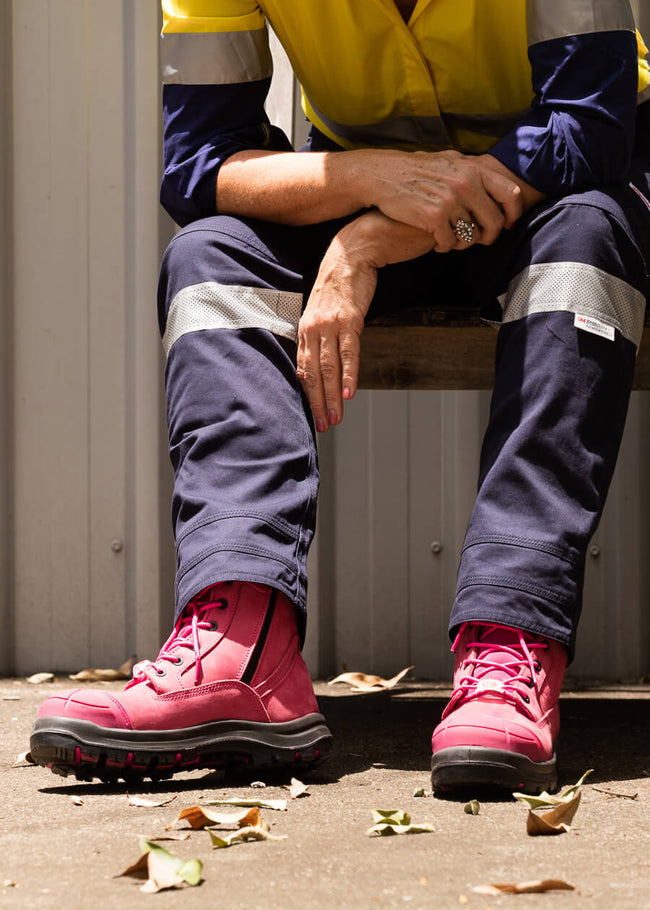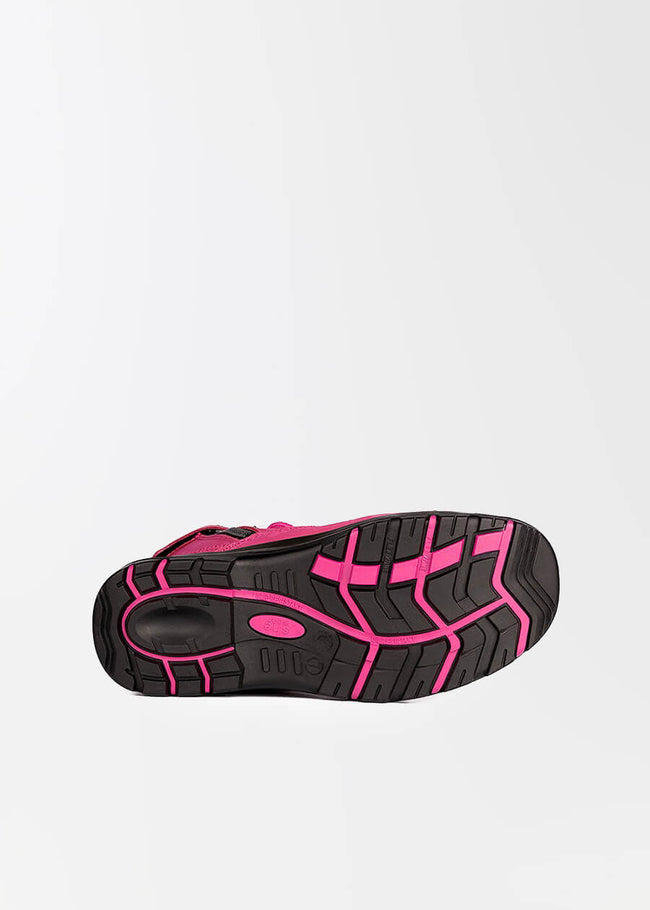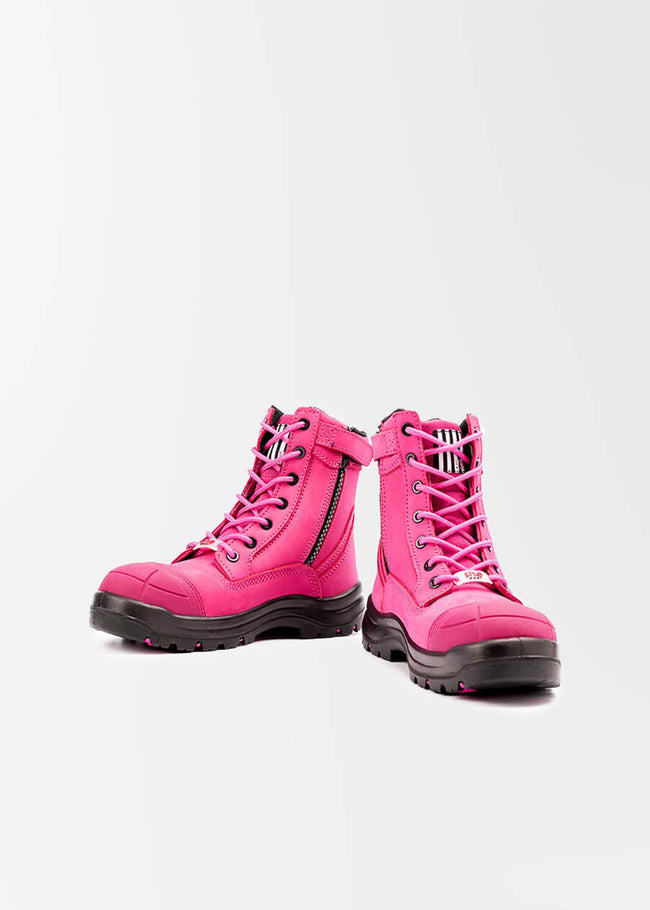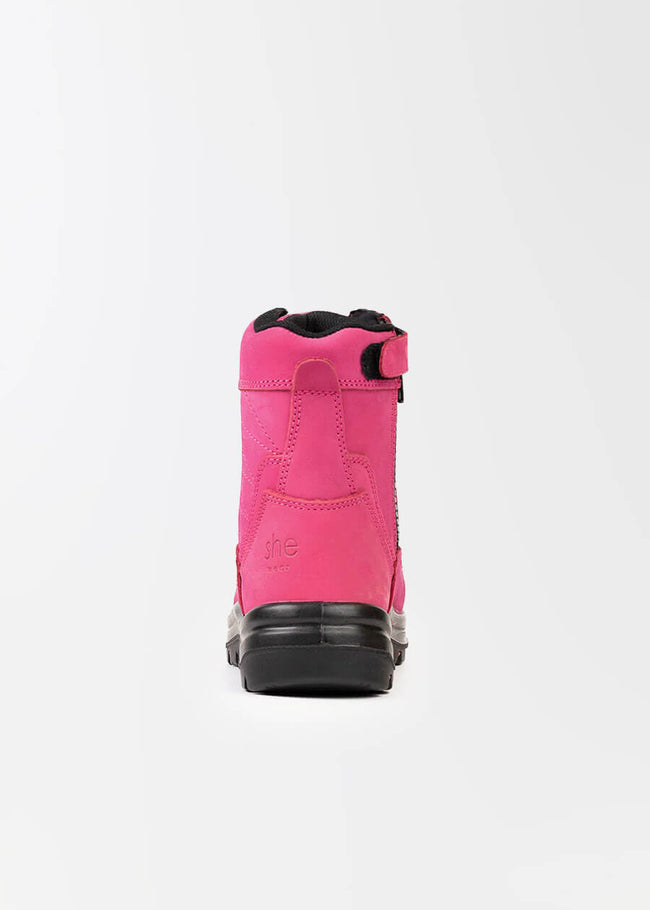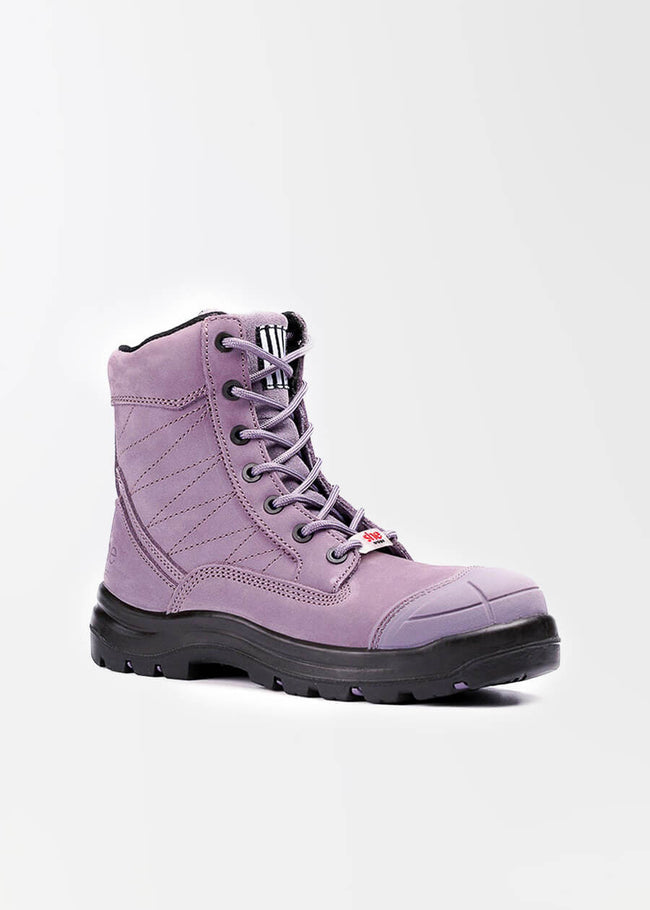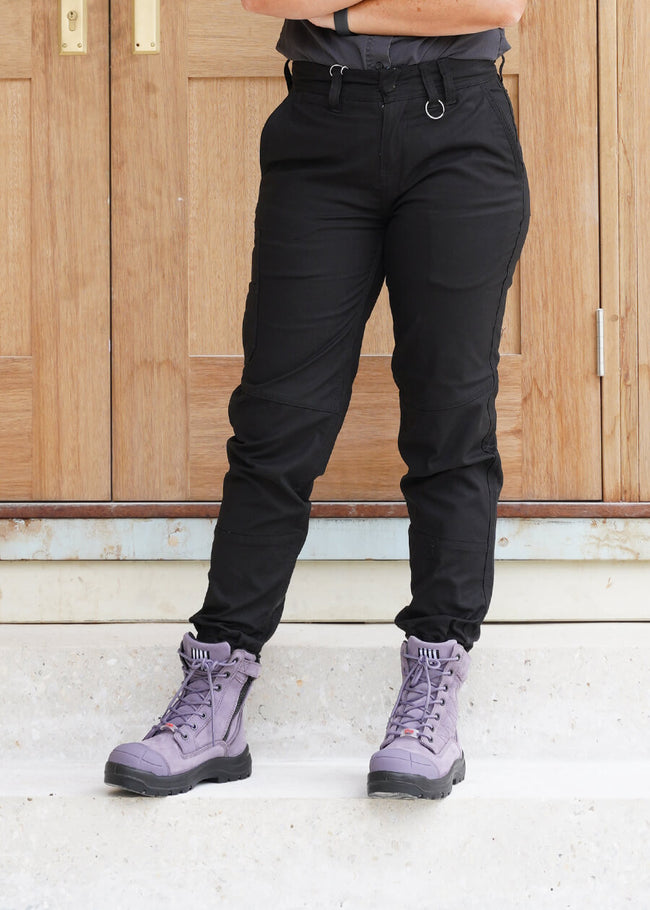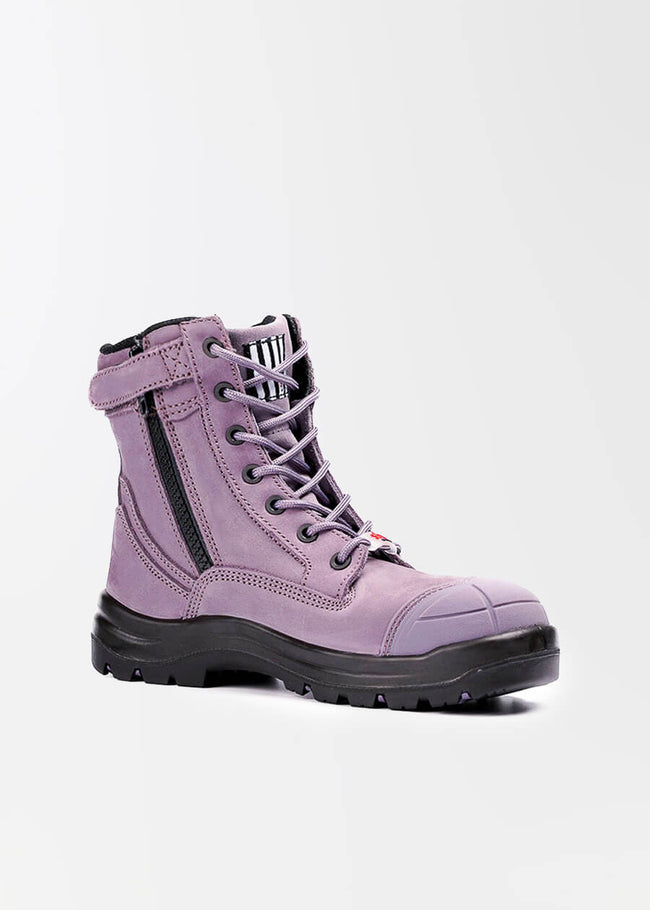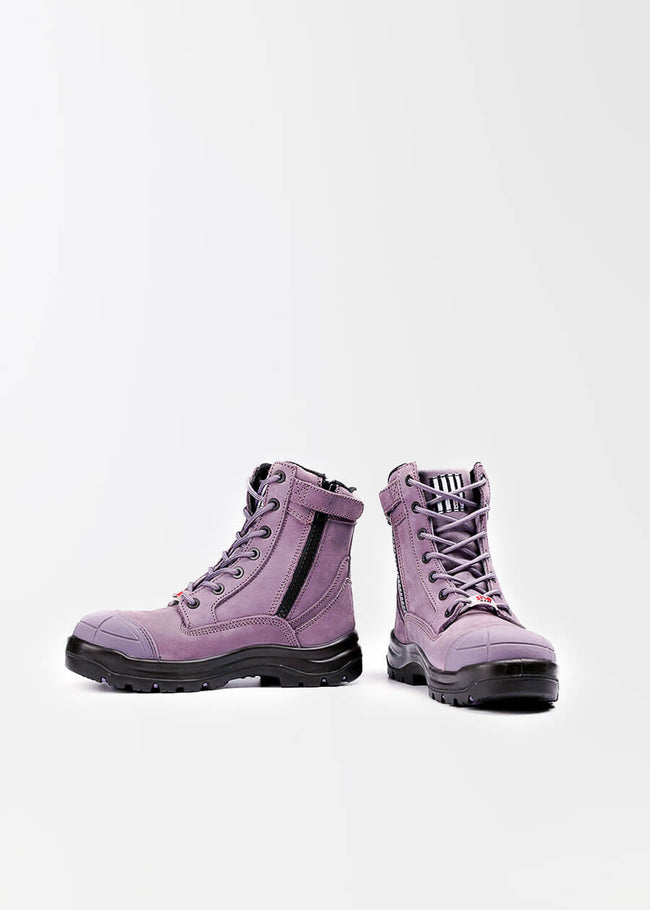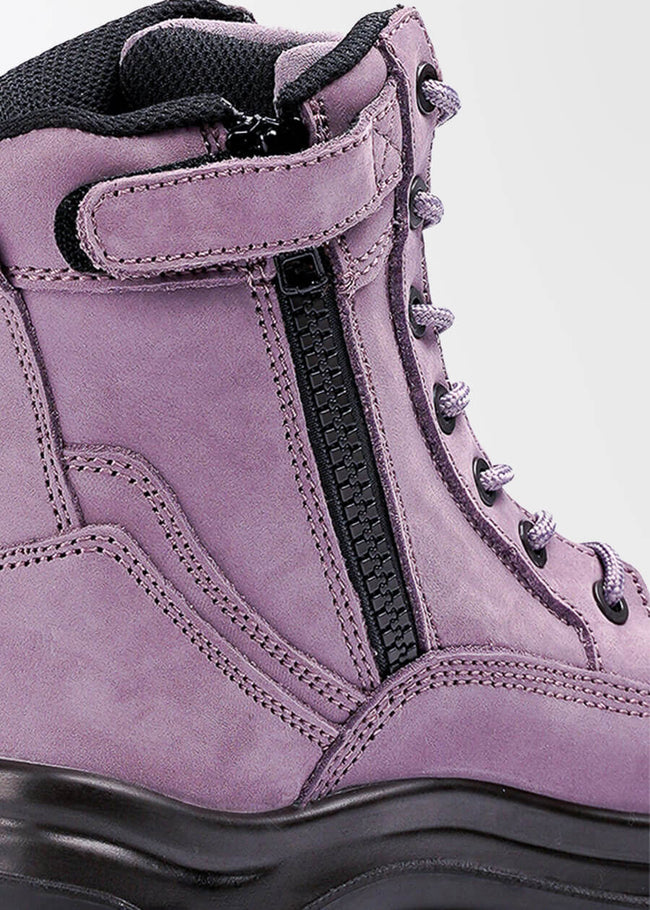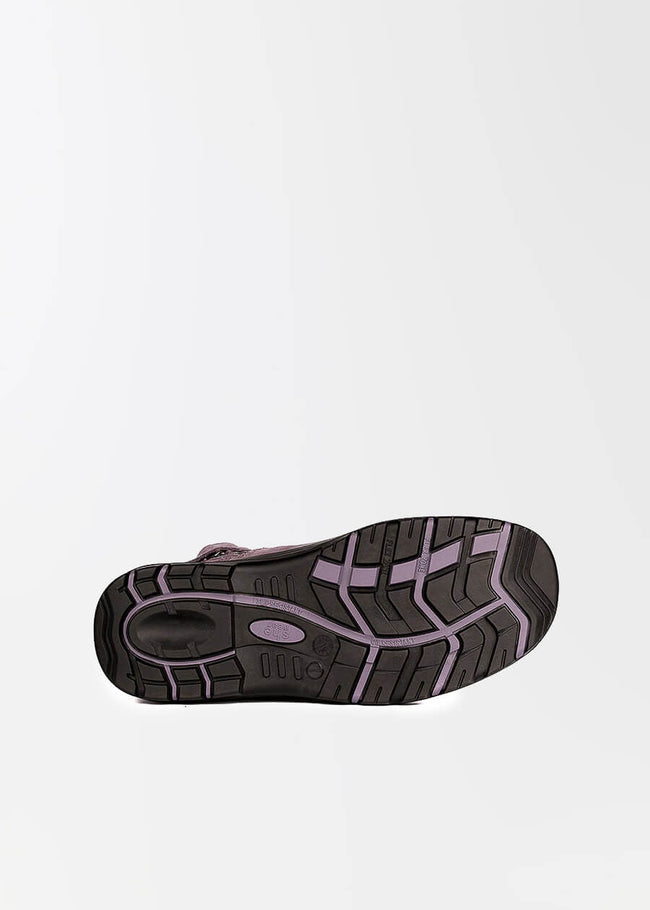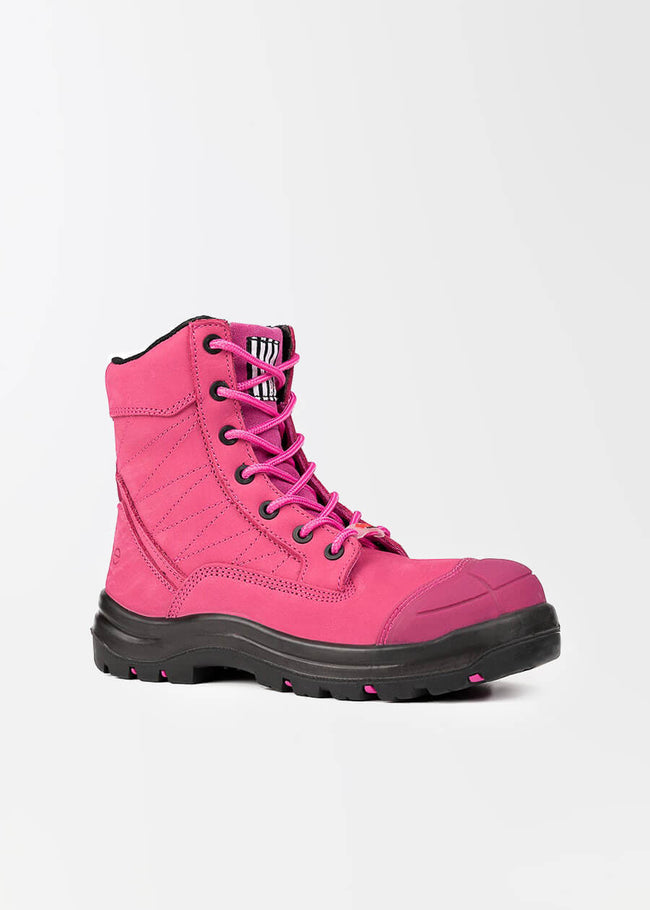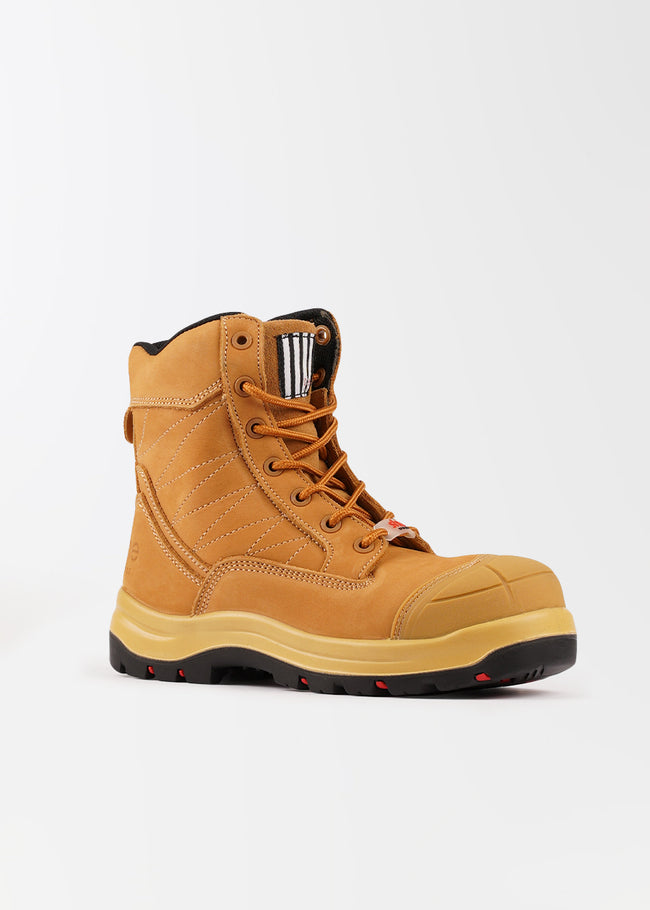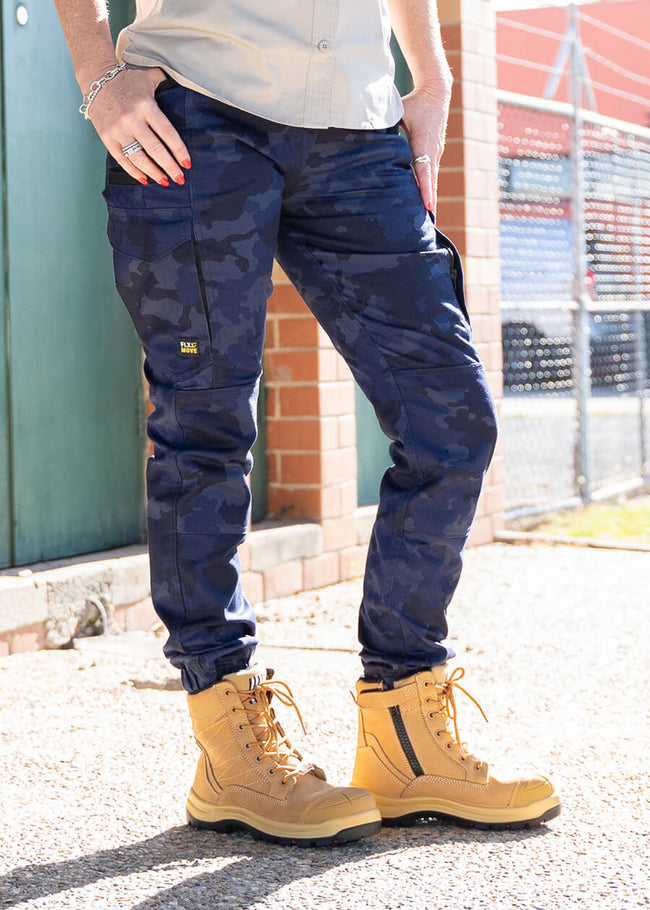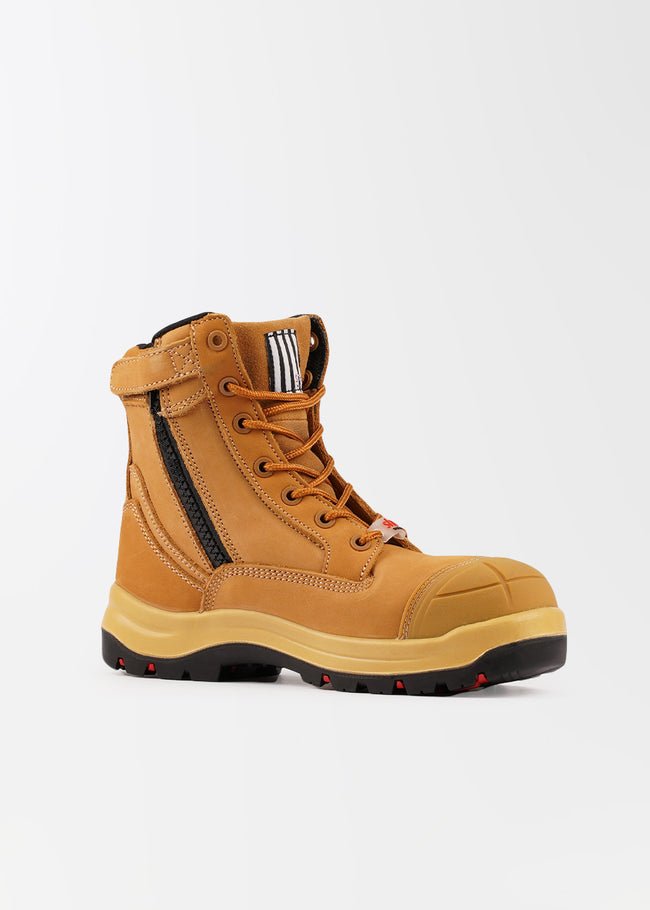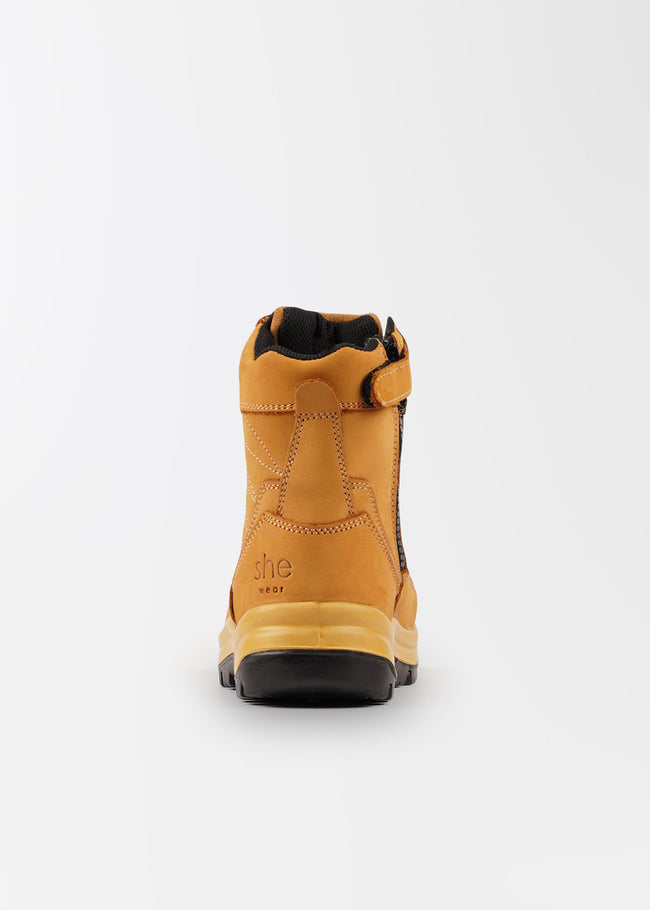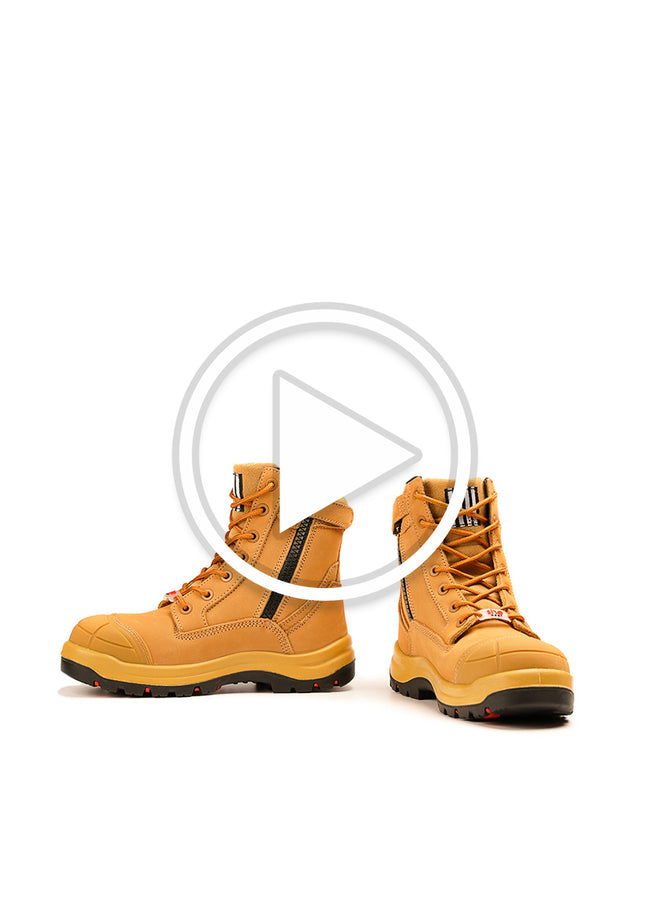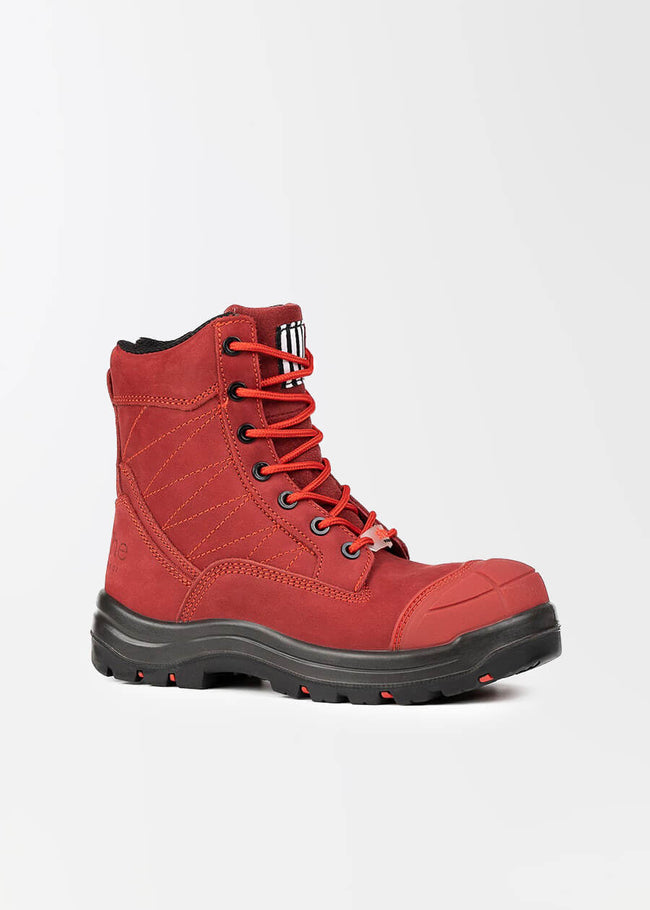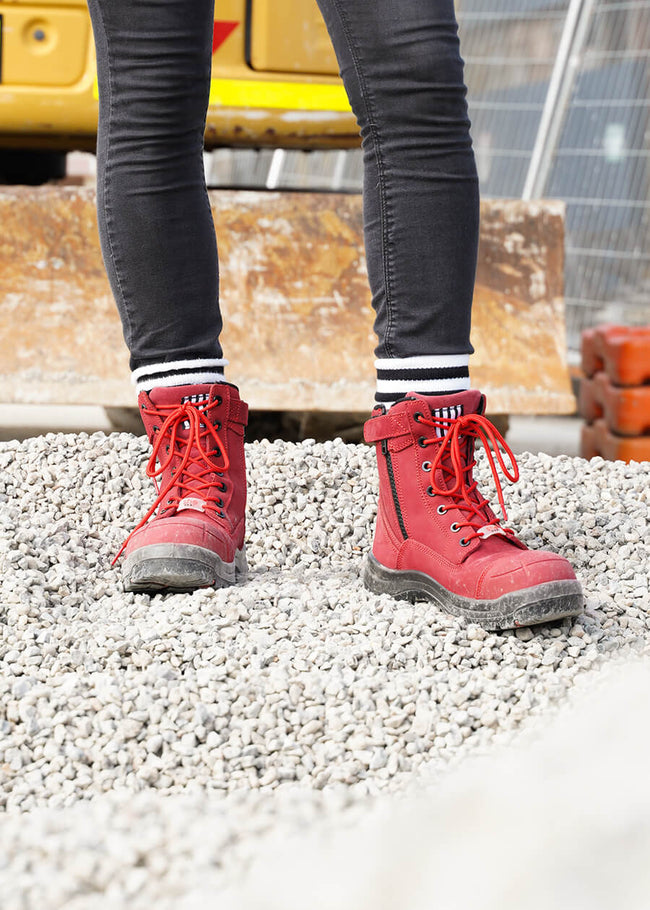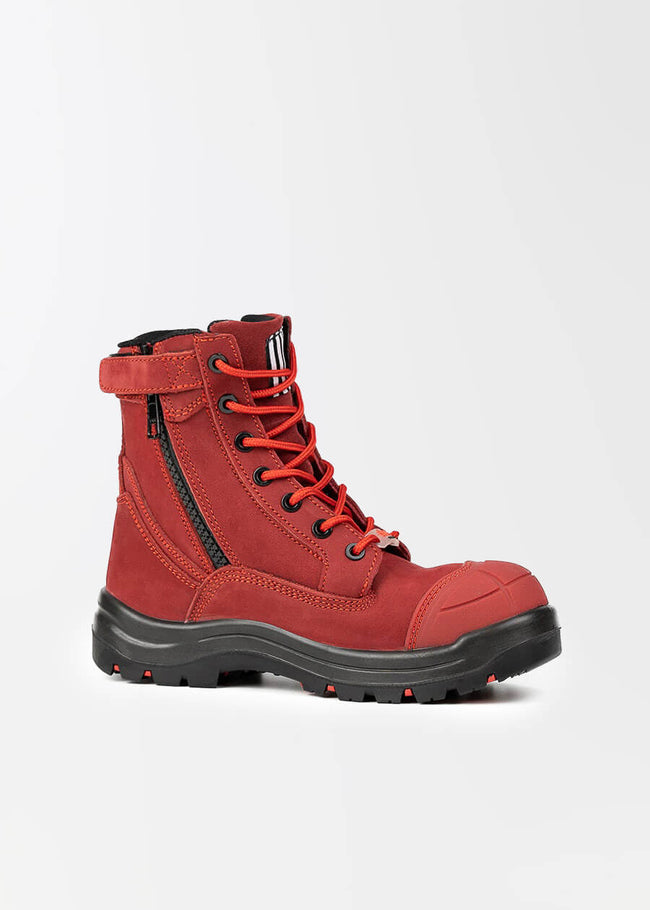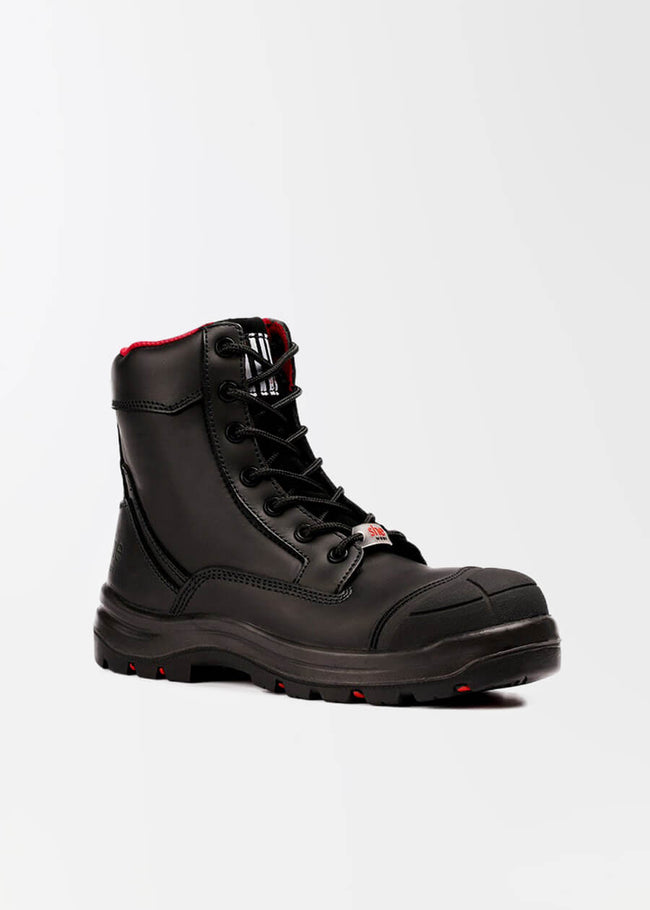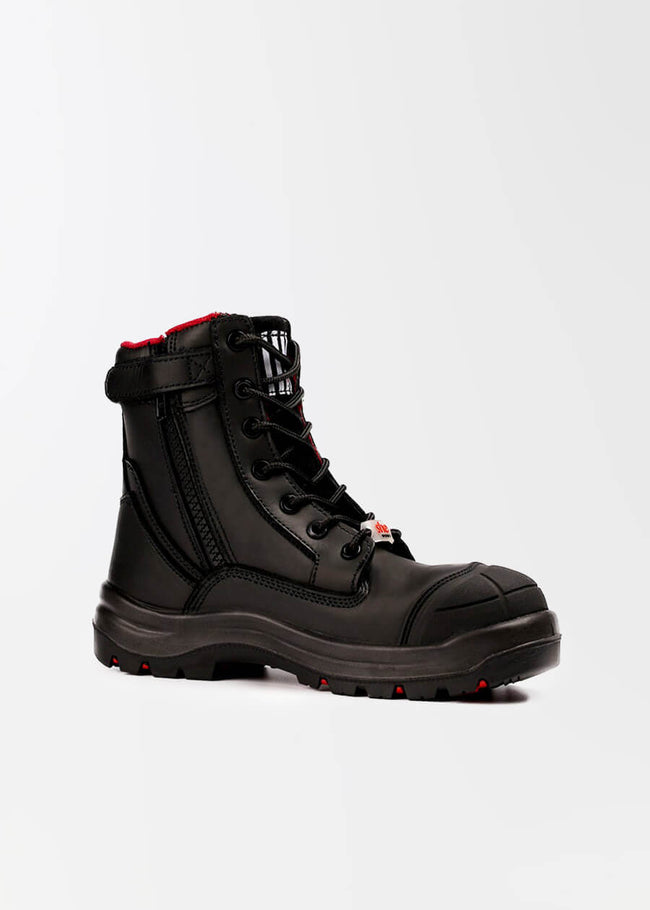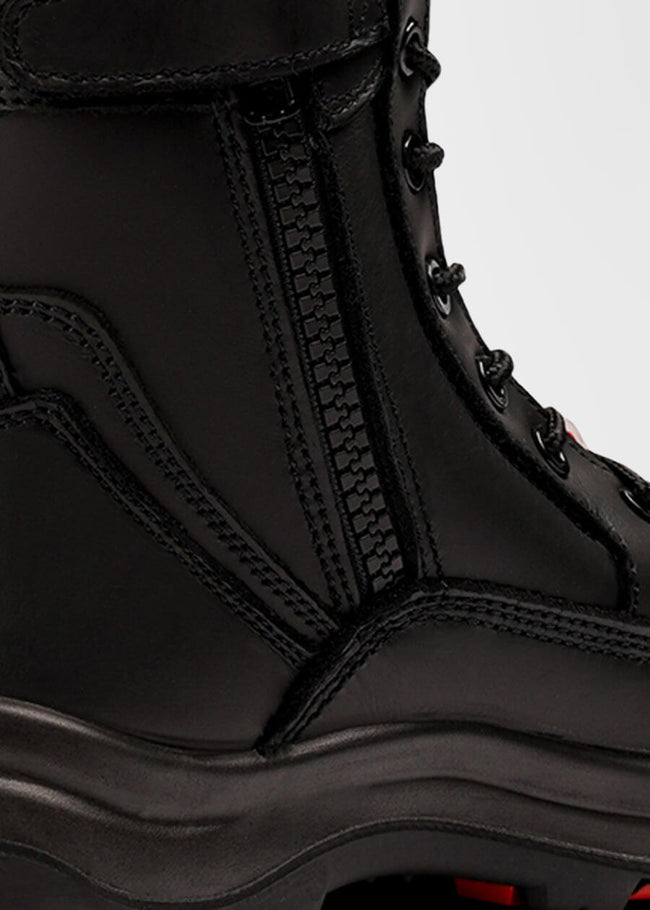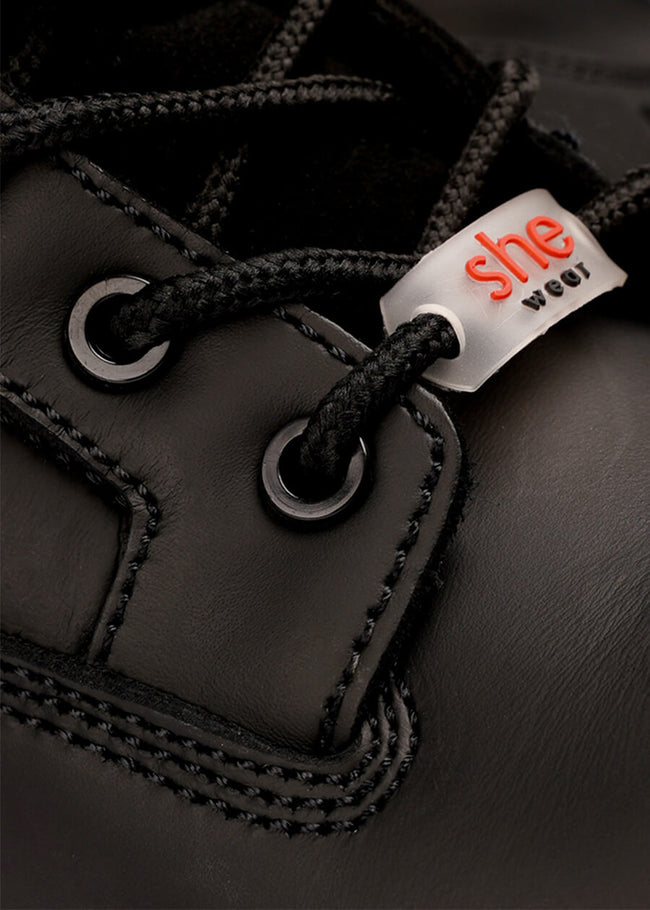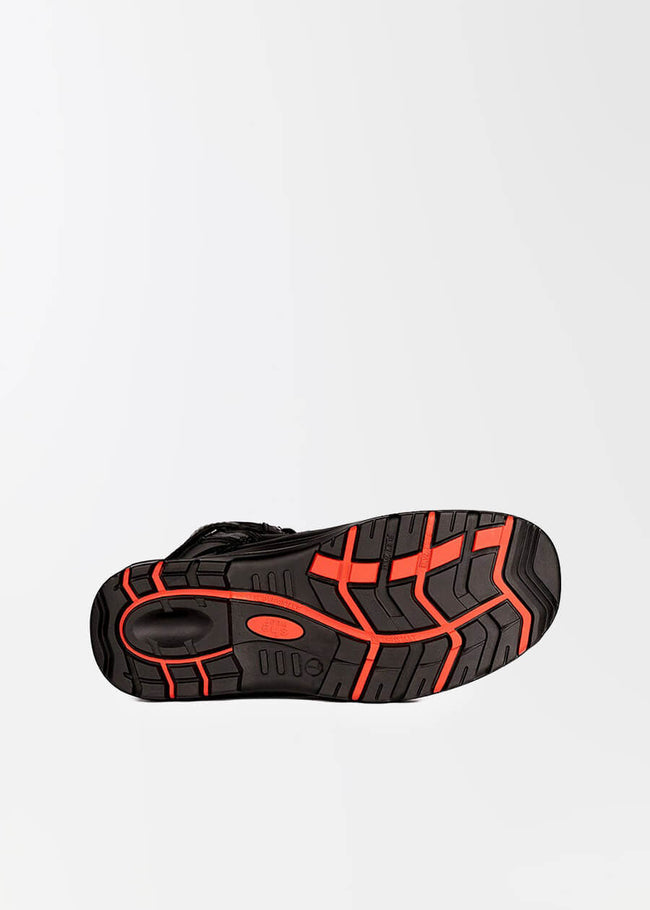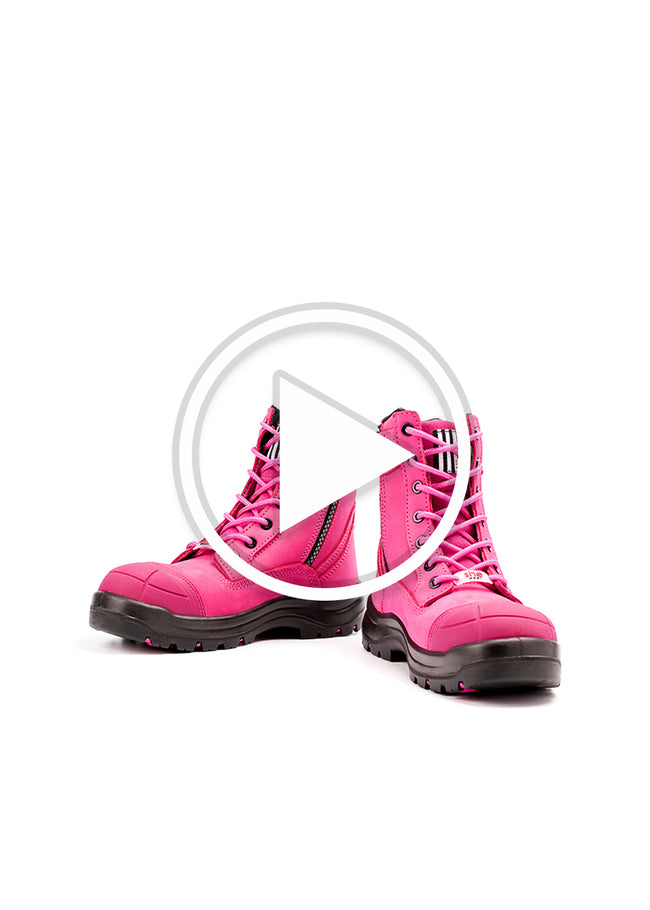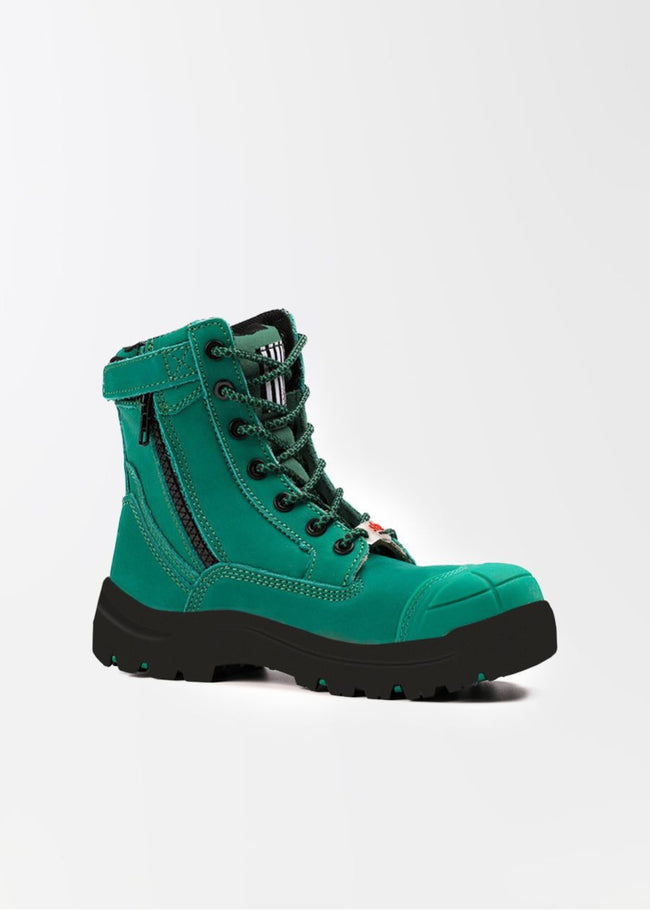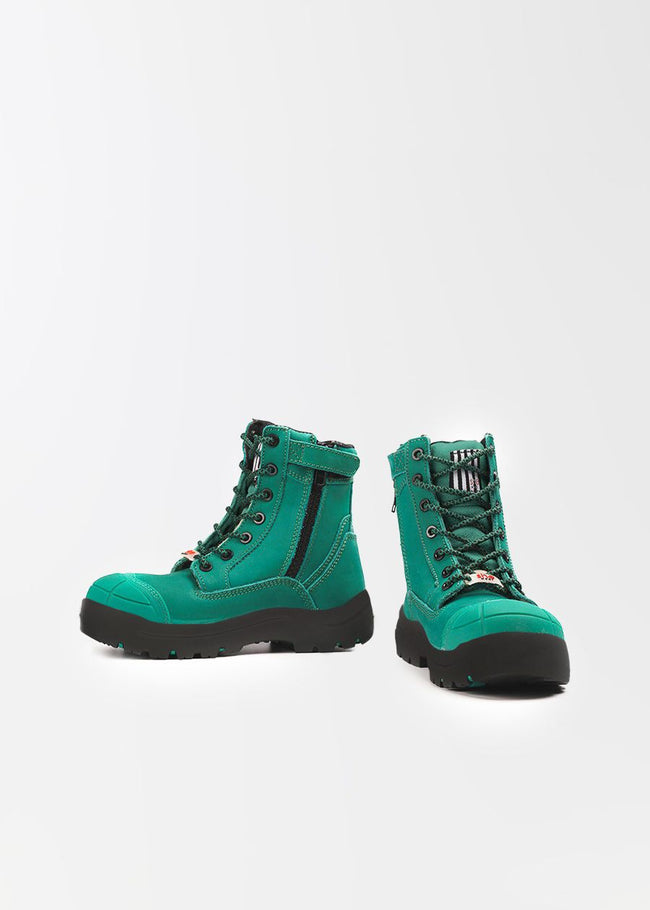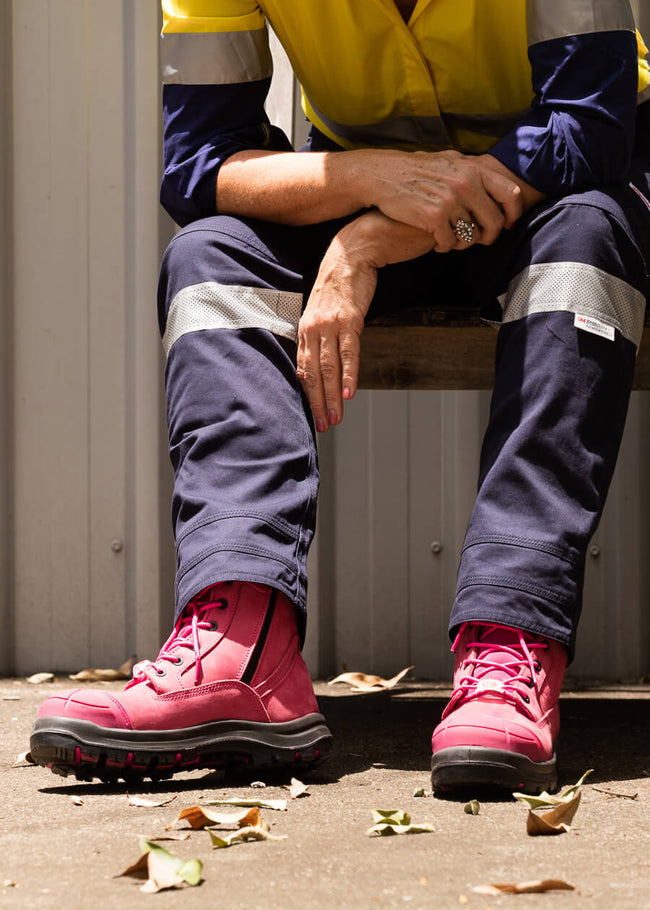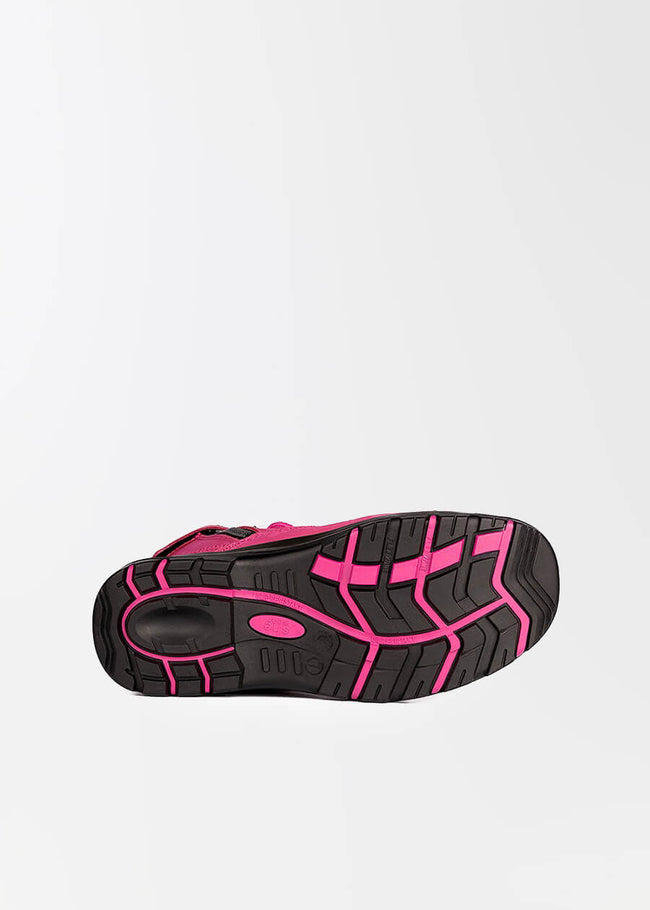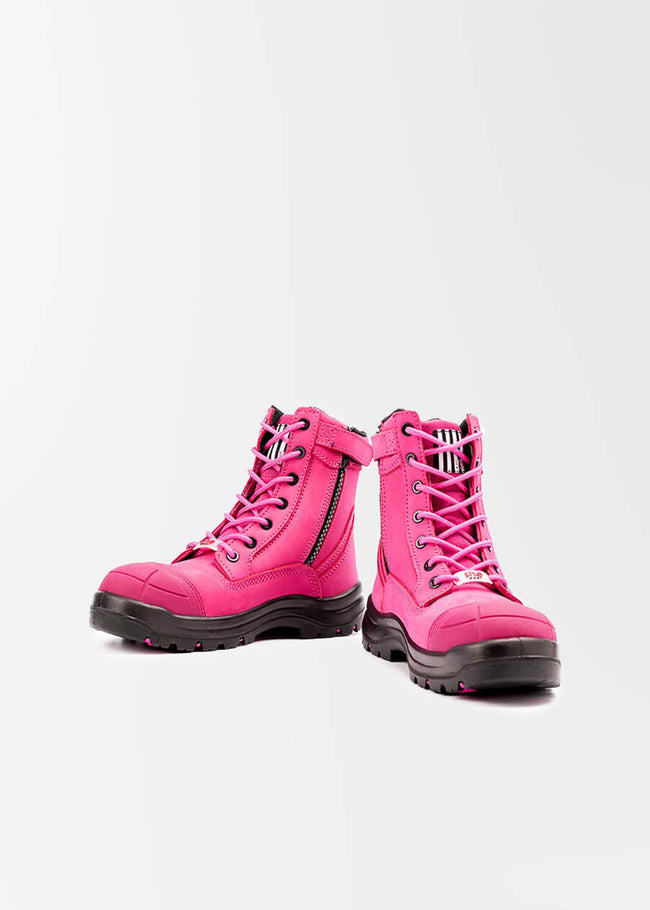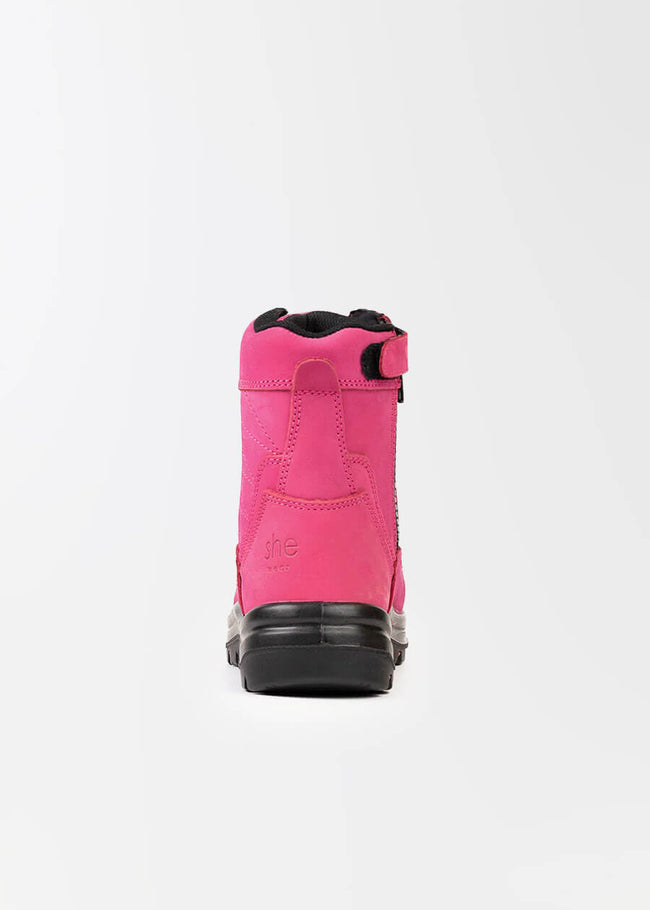 She Achieves: womens safety work boots (zip)
One of the lightest women's safety work boots on the market and boasting features like airport friendly safety toe caps and a certified slip resistant & heat resistant sole, the Achieves is a favourite all-rounder .. and top seller! 
Wheat is also available in our Excels range - click here.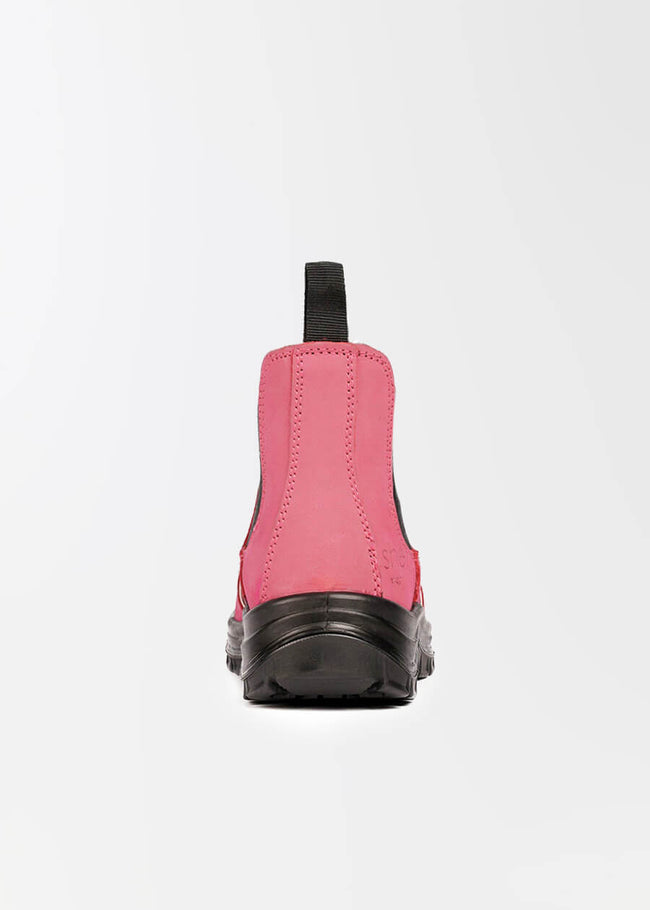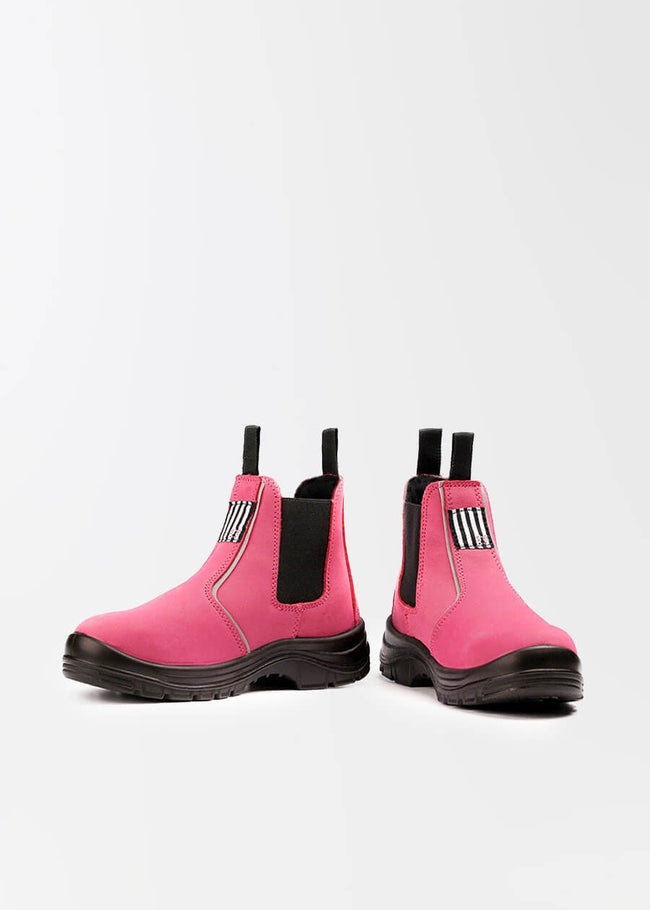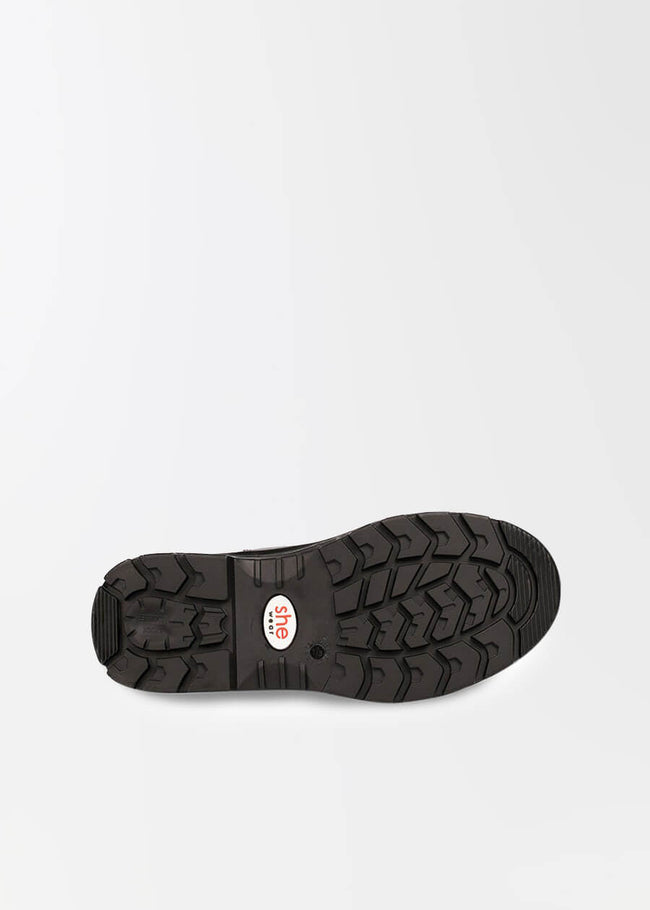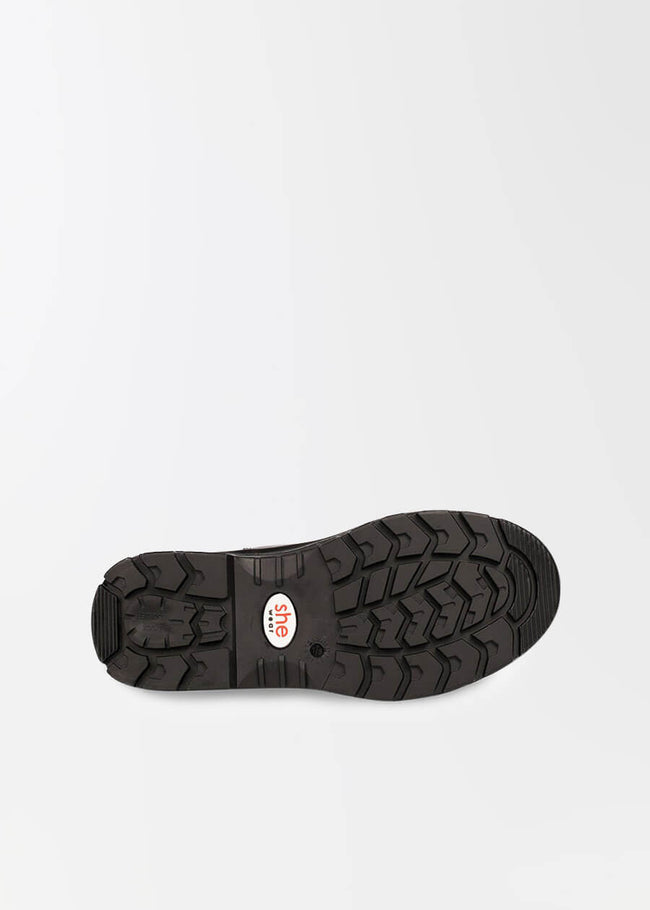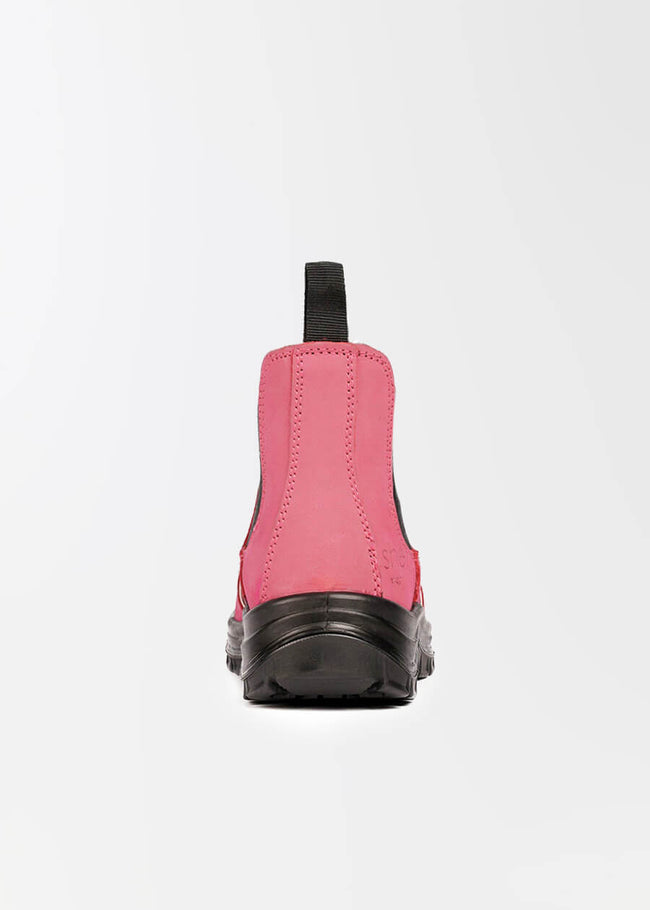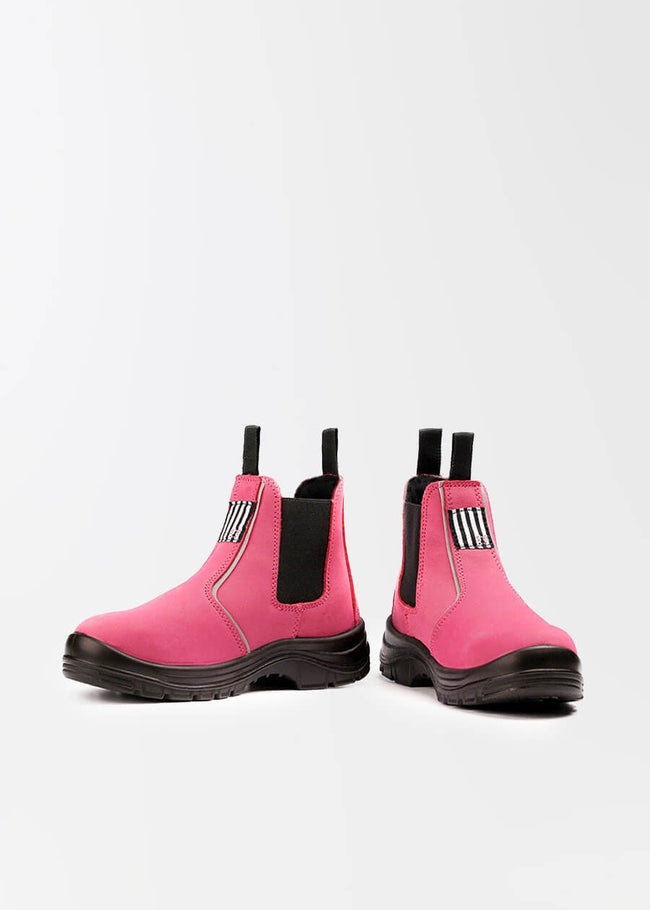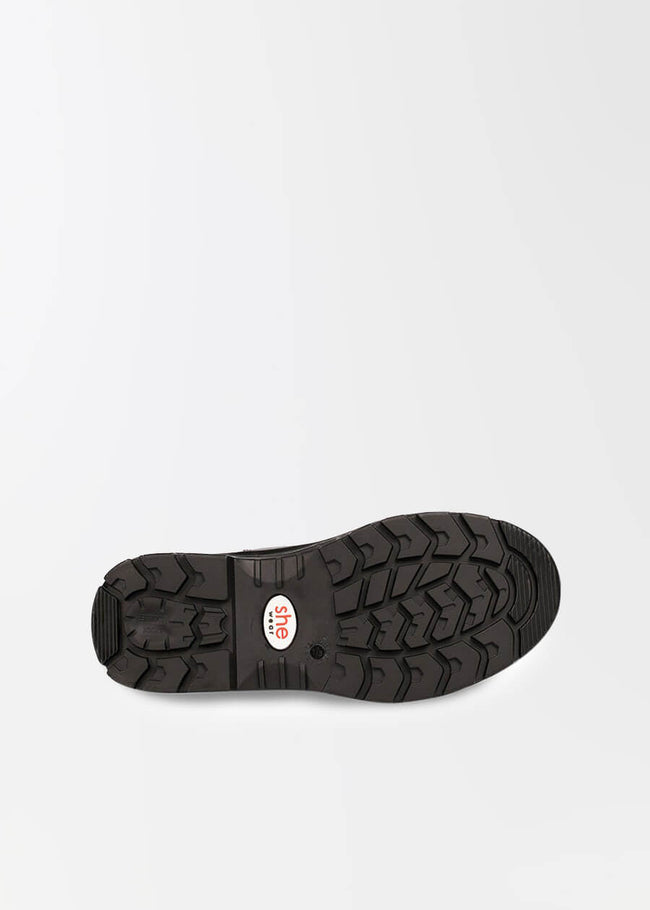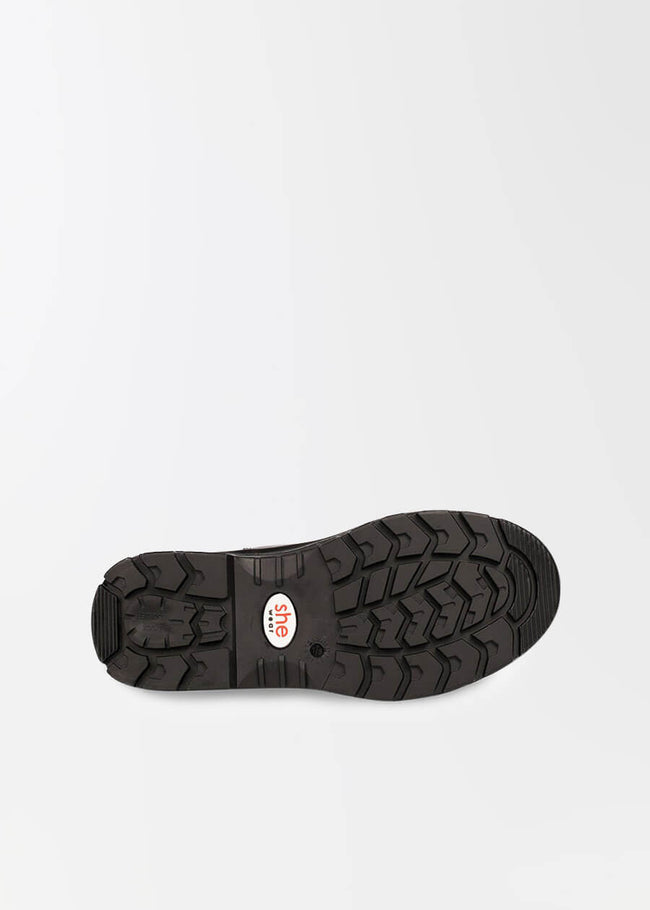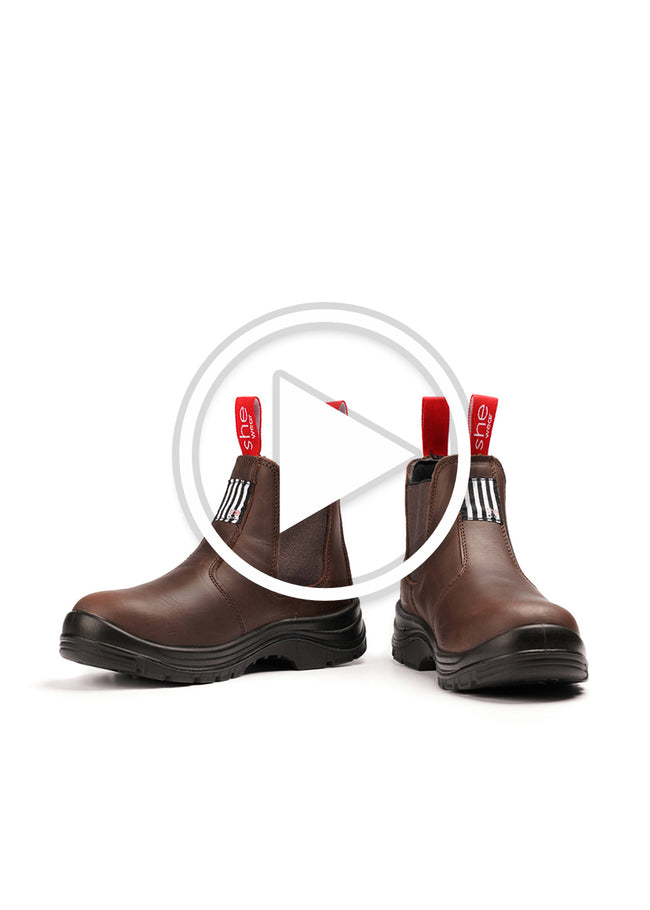 She Inspires: women's safety work boots (pull on)
A Chelsea style pull-on with a sneaky steel cap - she looks good, performs perfectly and pairs well with work pants or weekend wear. Super comfy, a great contoured fit and lightweight - tick, tick, tick!!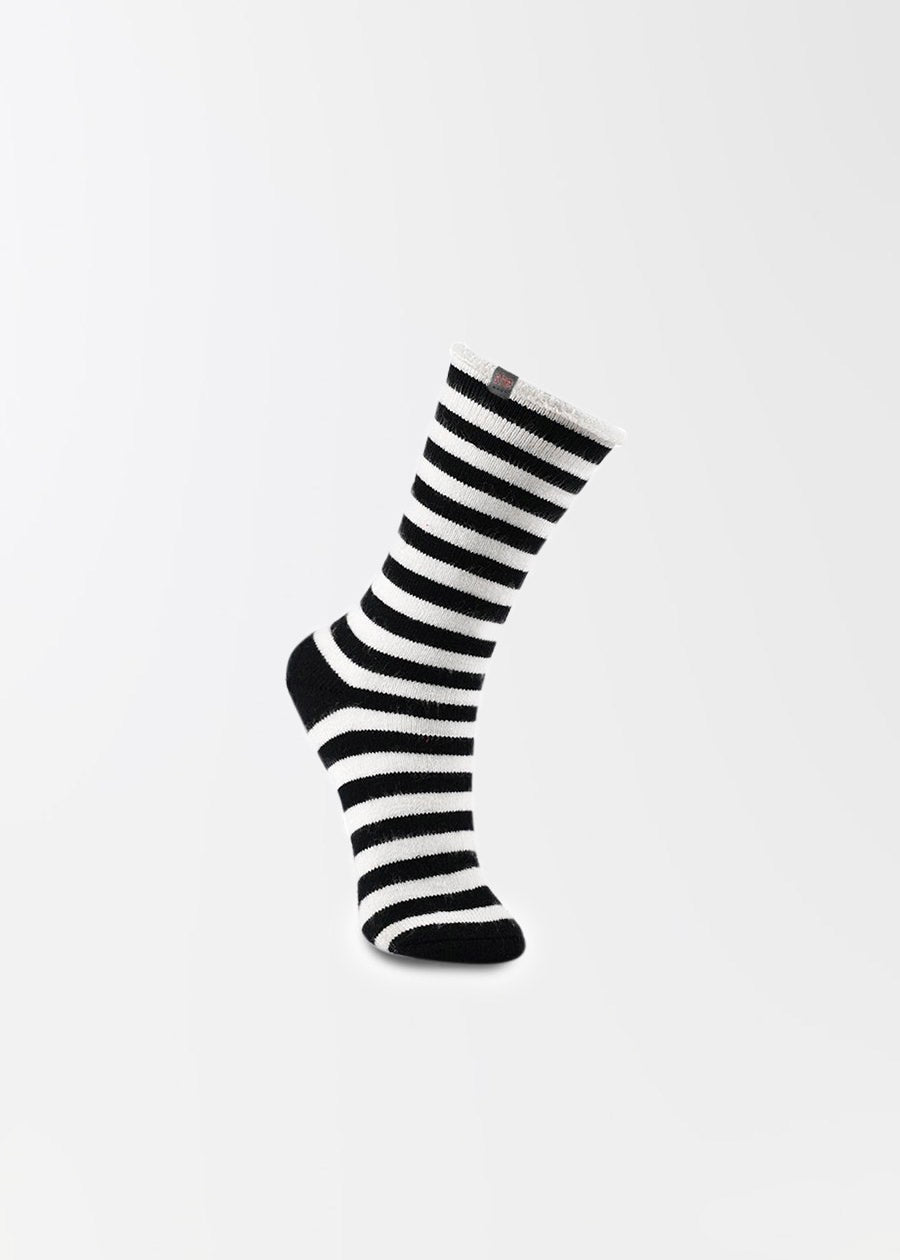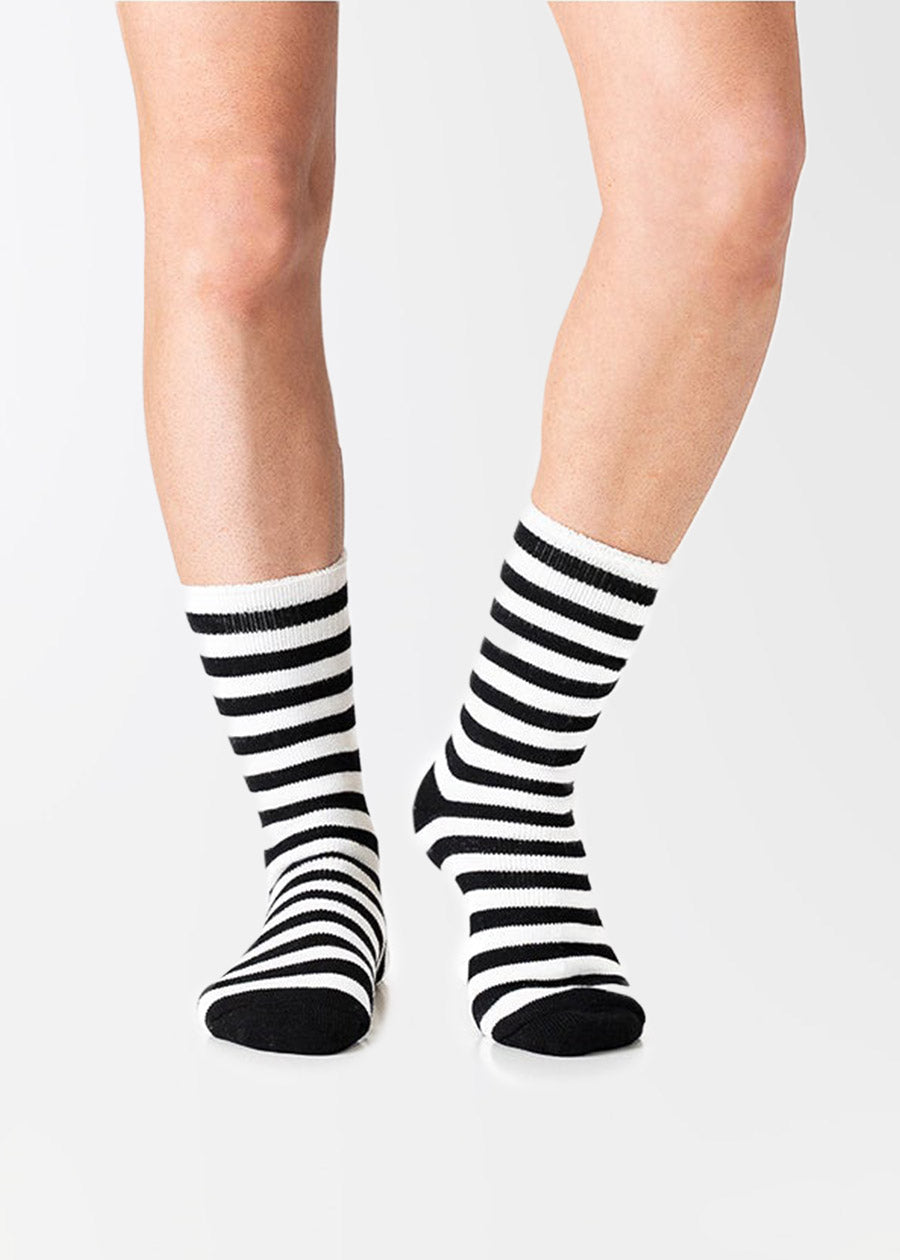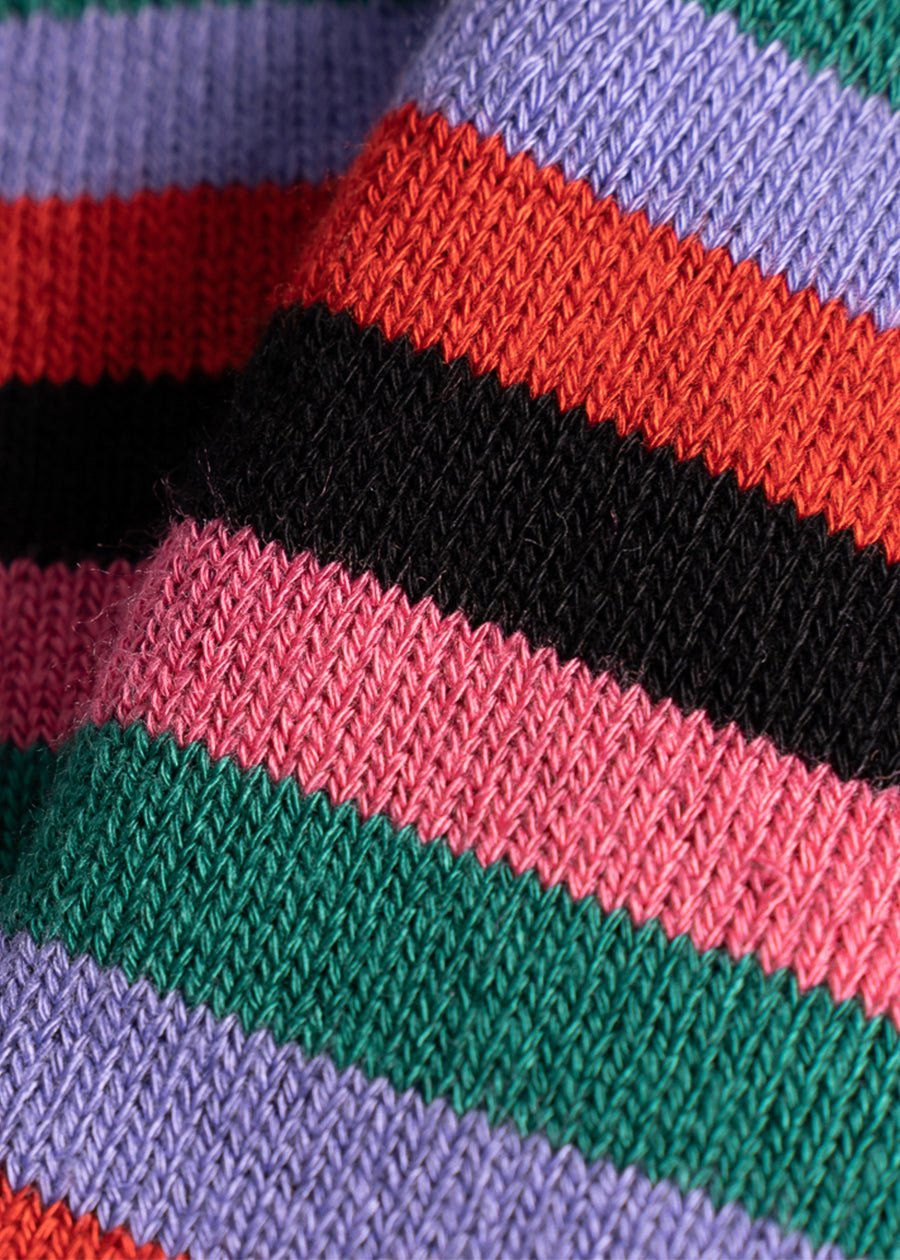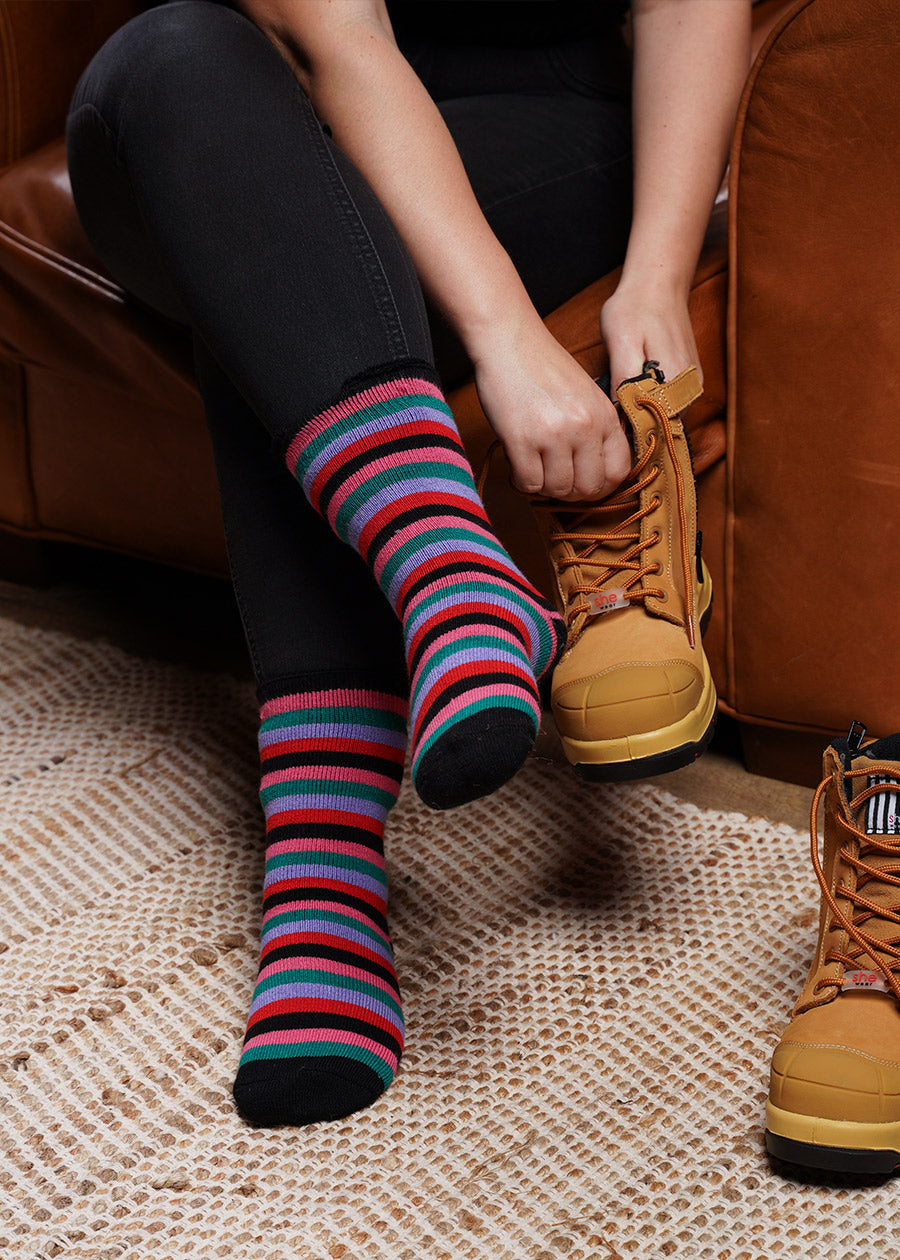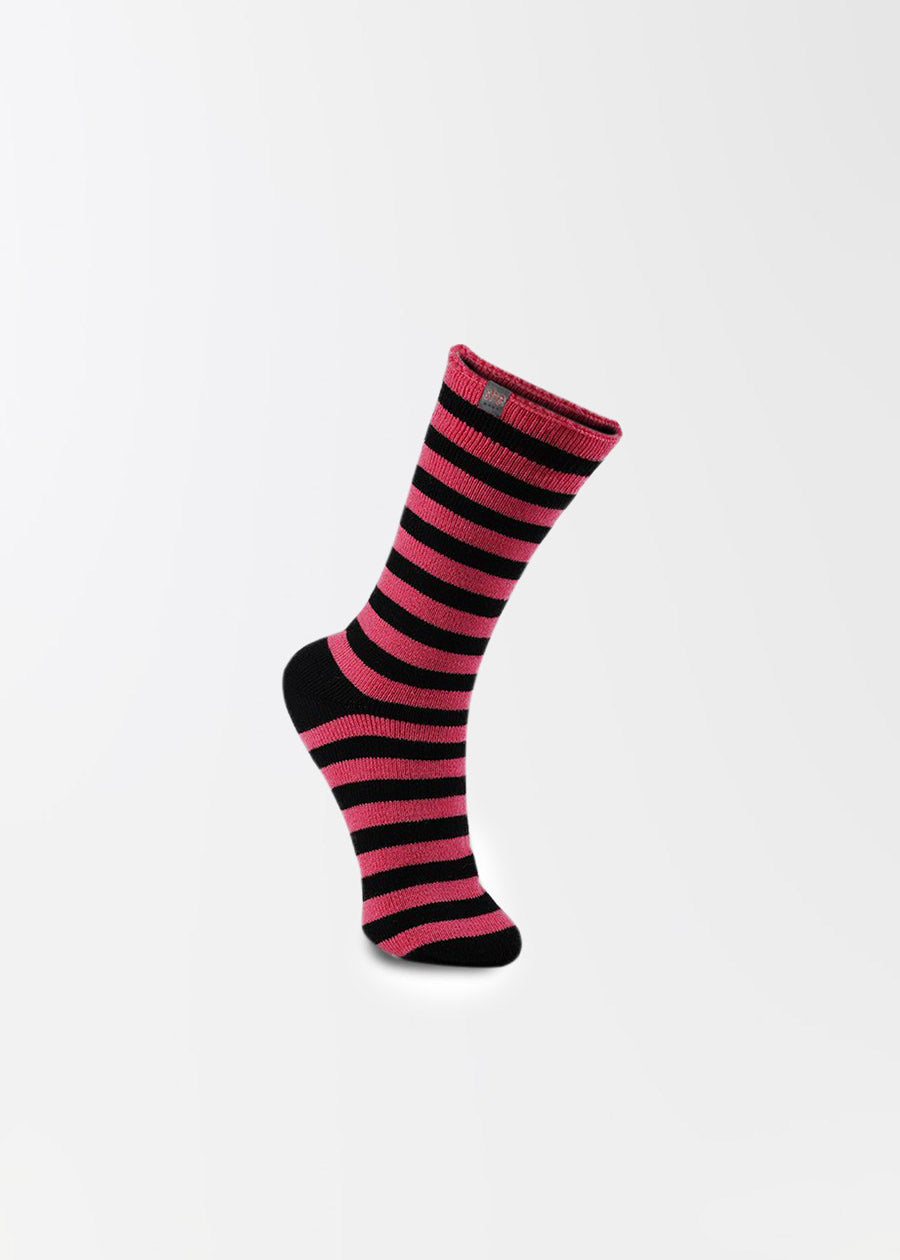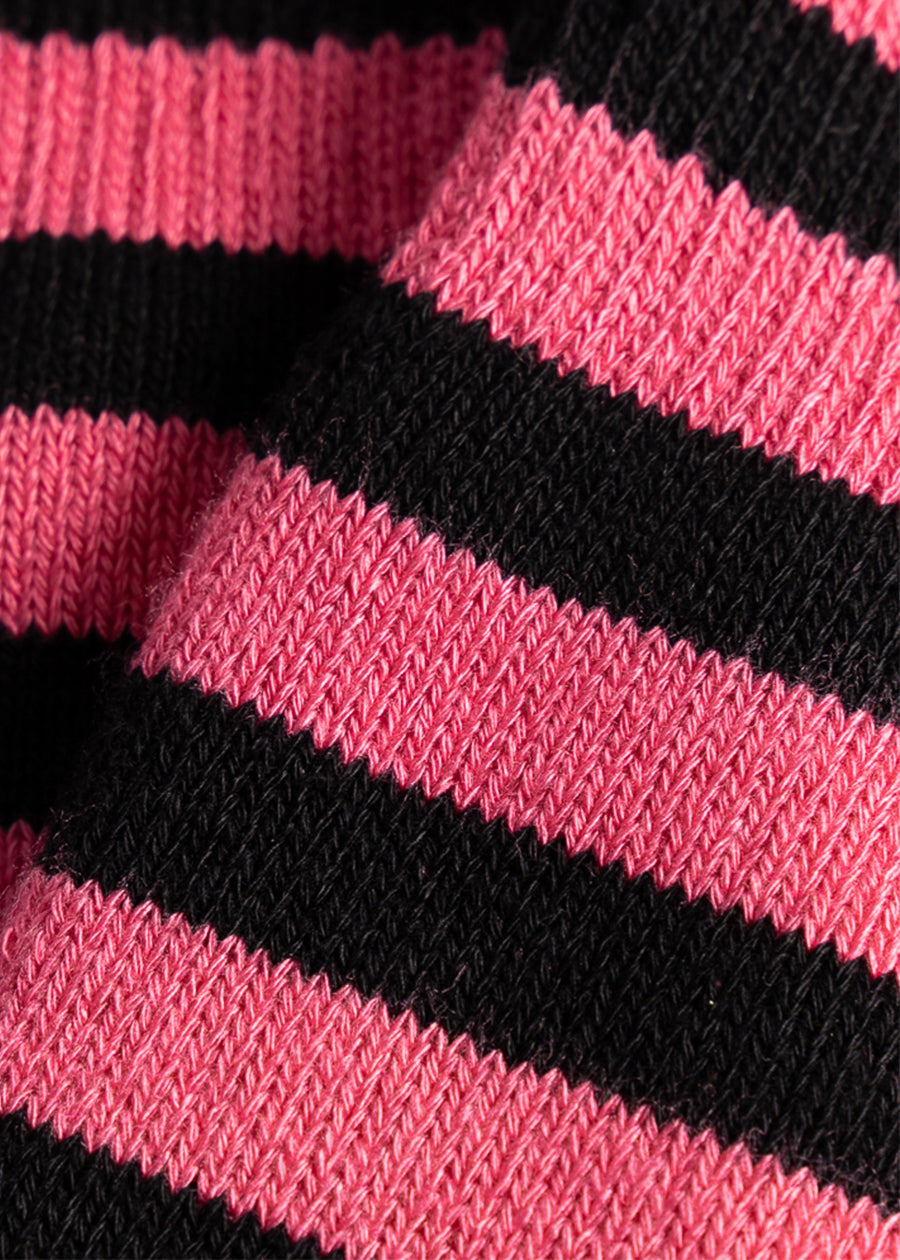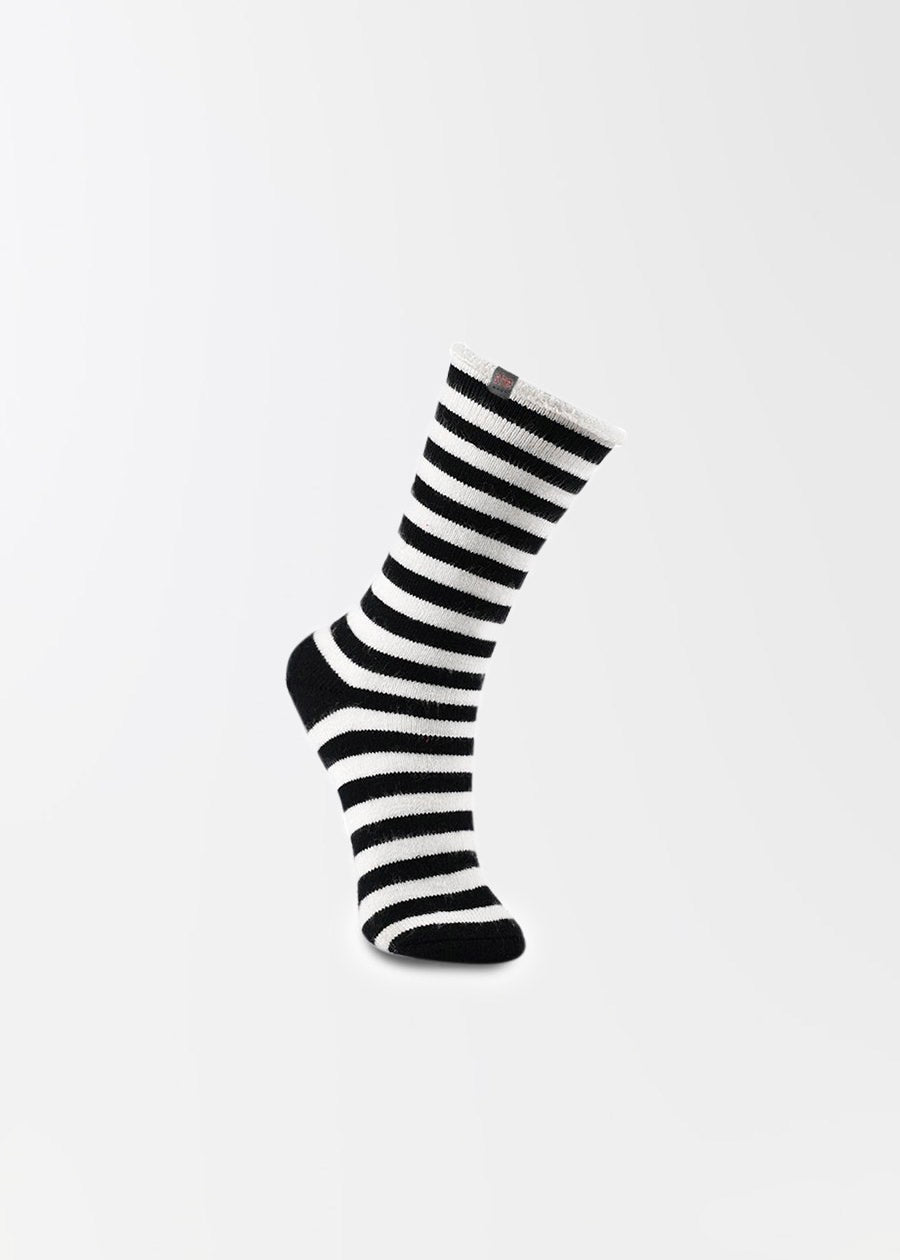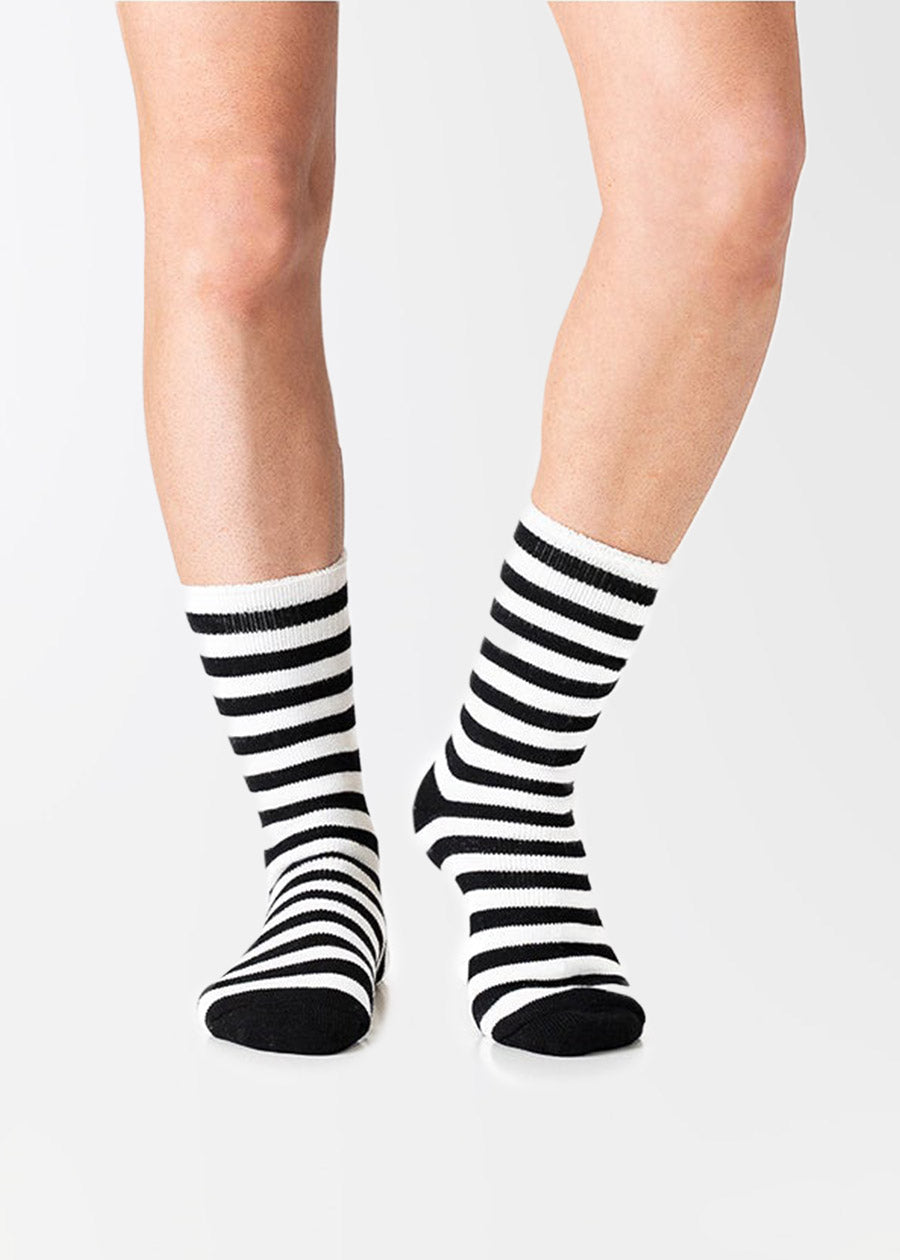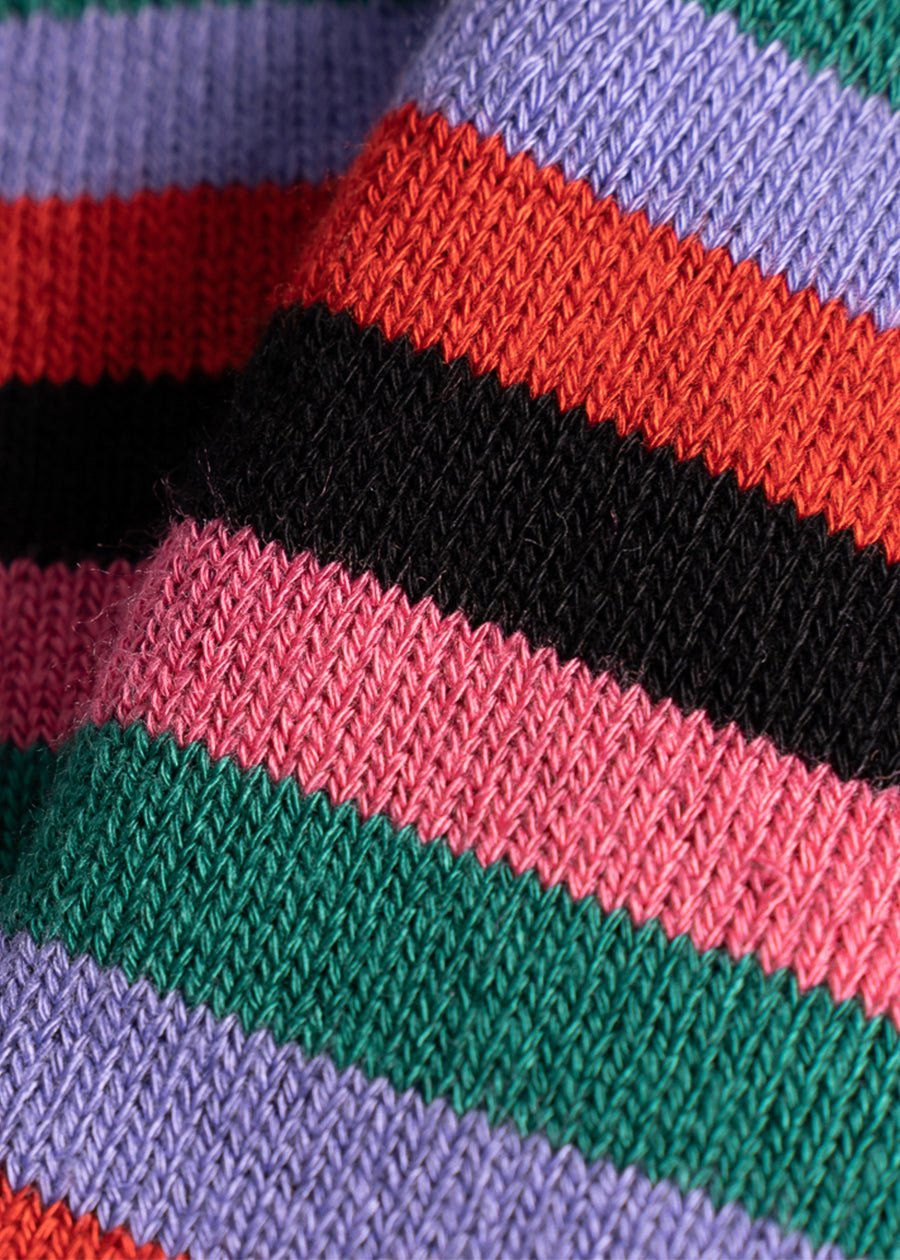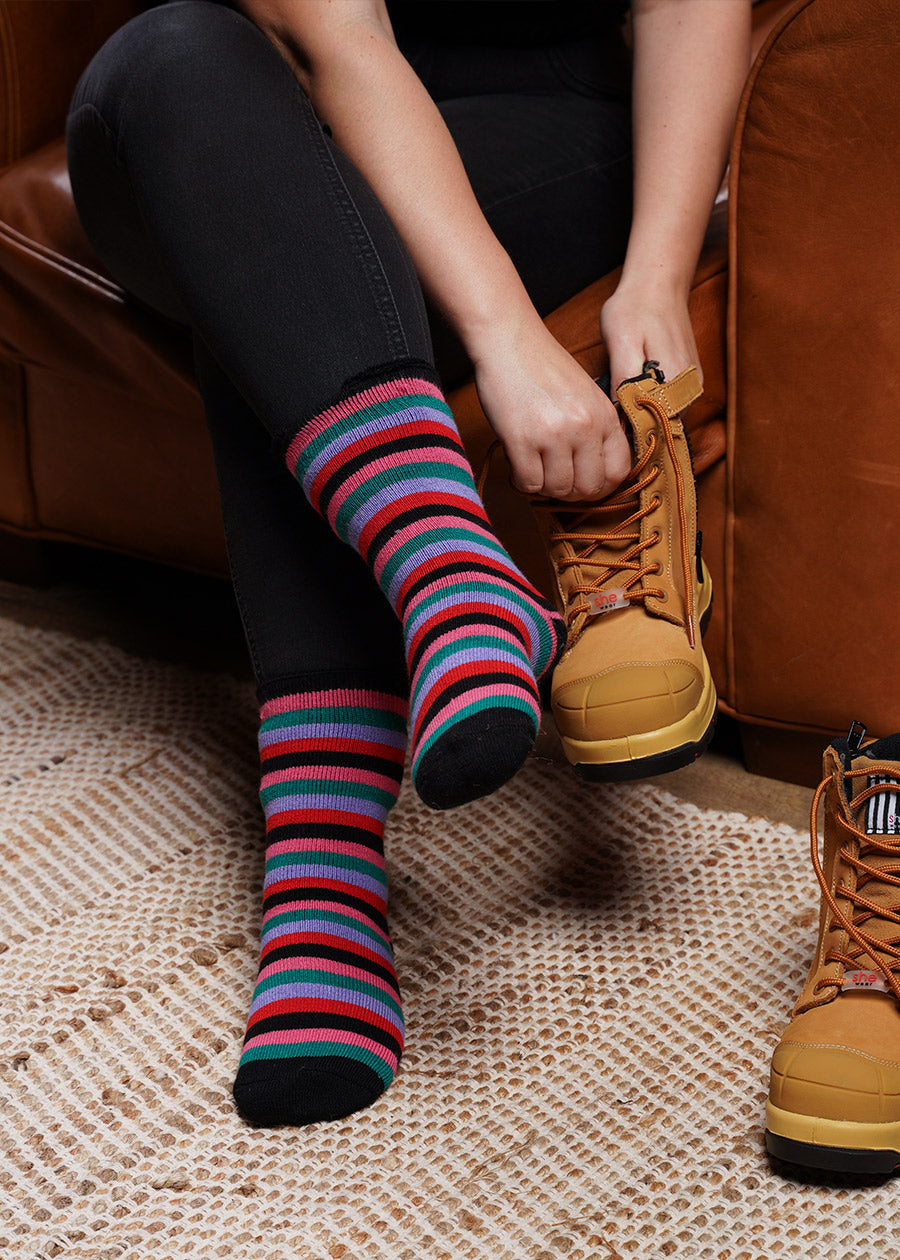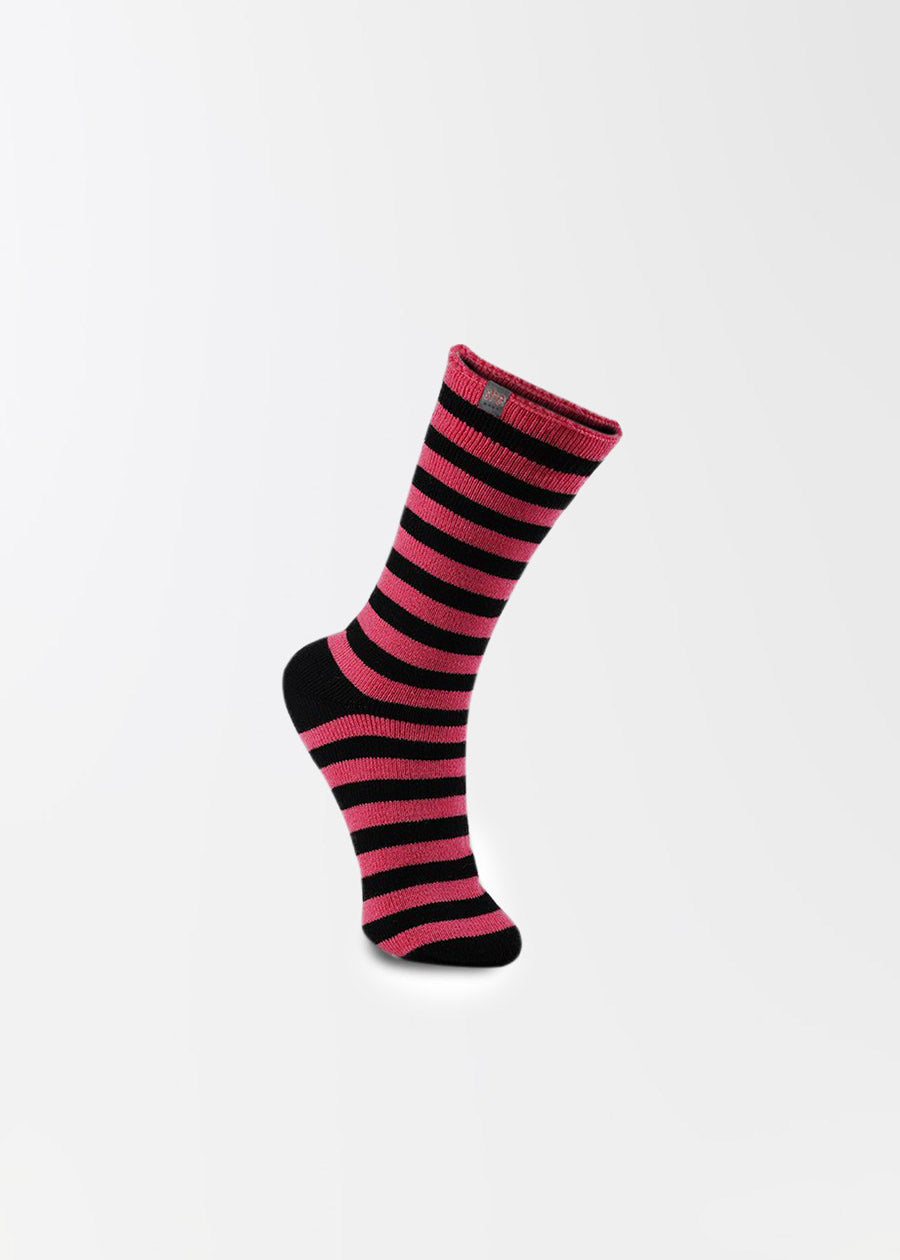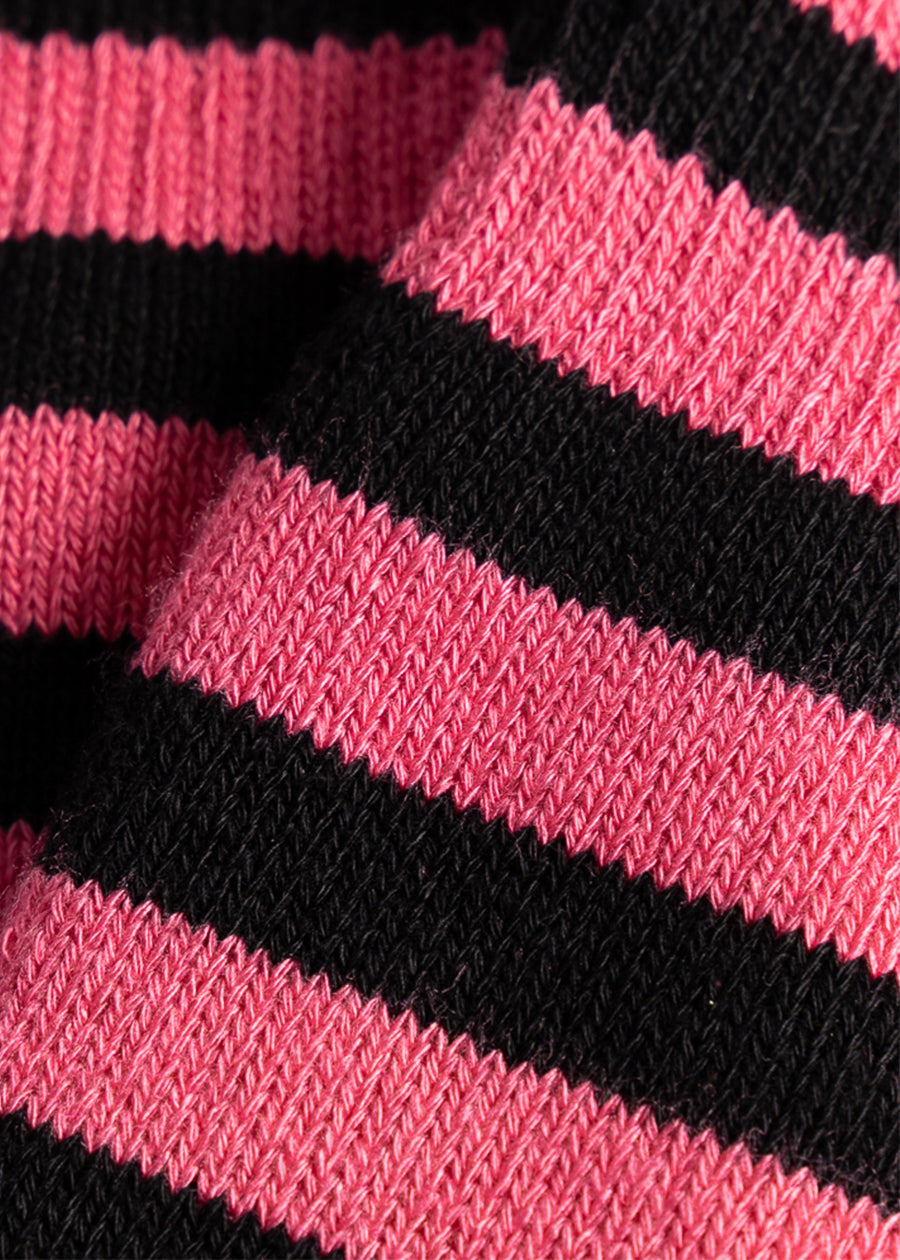 Organic bamboo womens thick long socks
Specially crafted to keep your feet happy all day all round year, these organic bamboo socks are not just soft but also breathable.
Perfect for everyday work or adventures, in both summer AND winter. Treat your feet to the goodness of bamboo – it's like a hug for your soles!
Buy any 3 she wear branded accessories and get 10% off!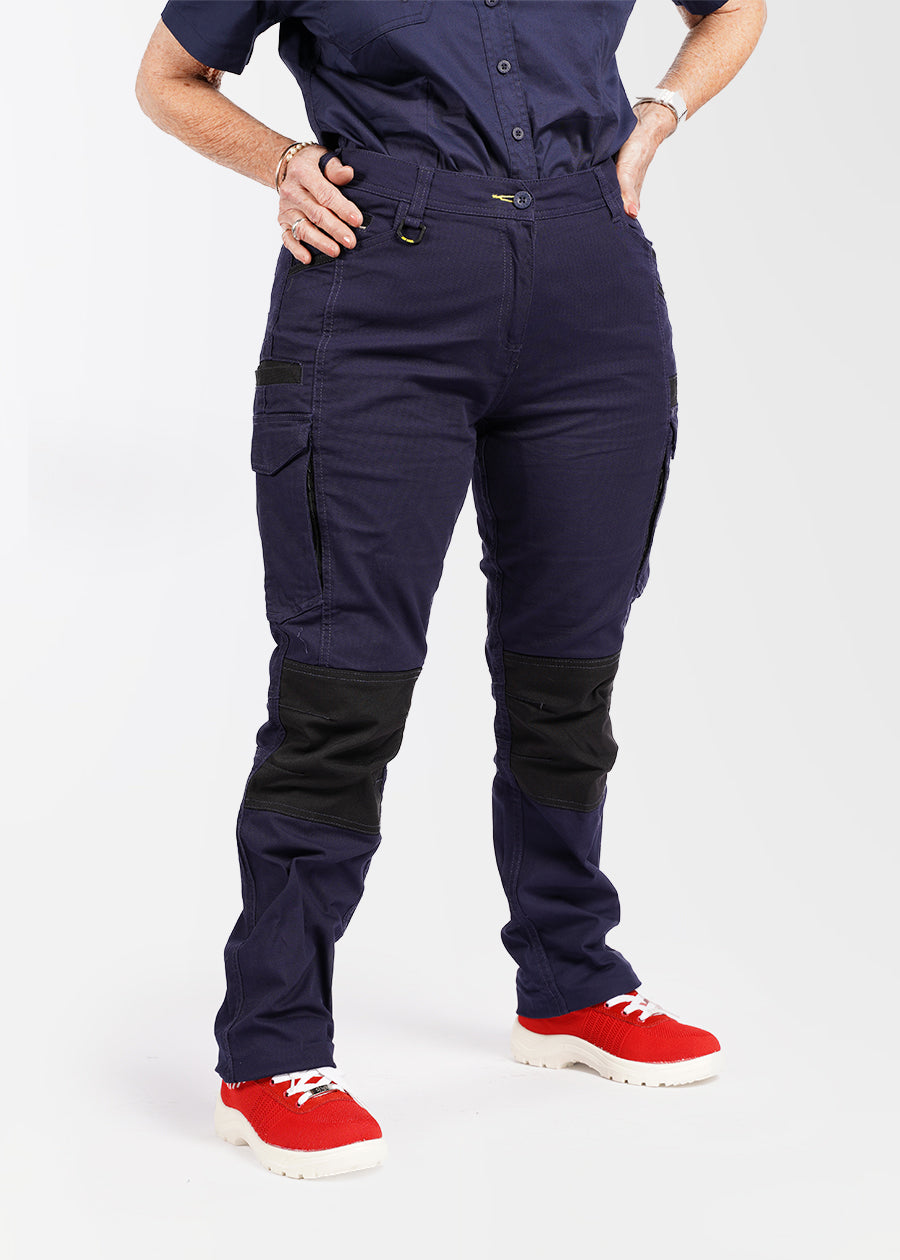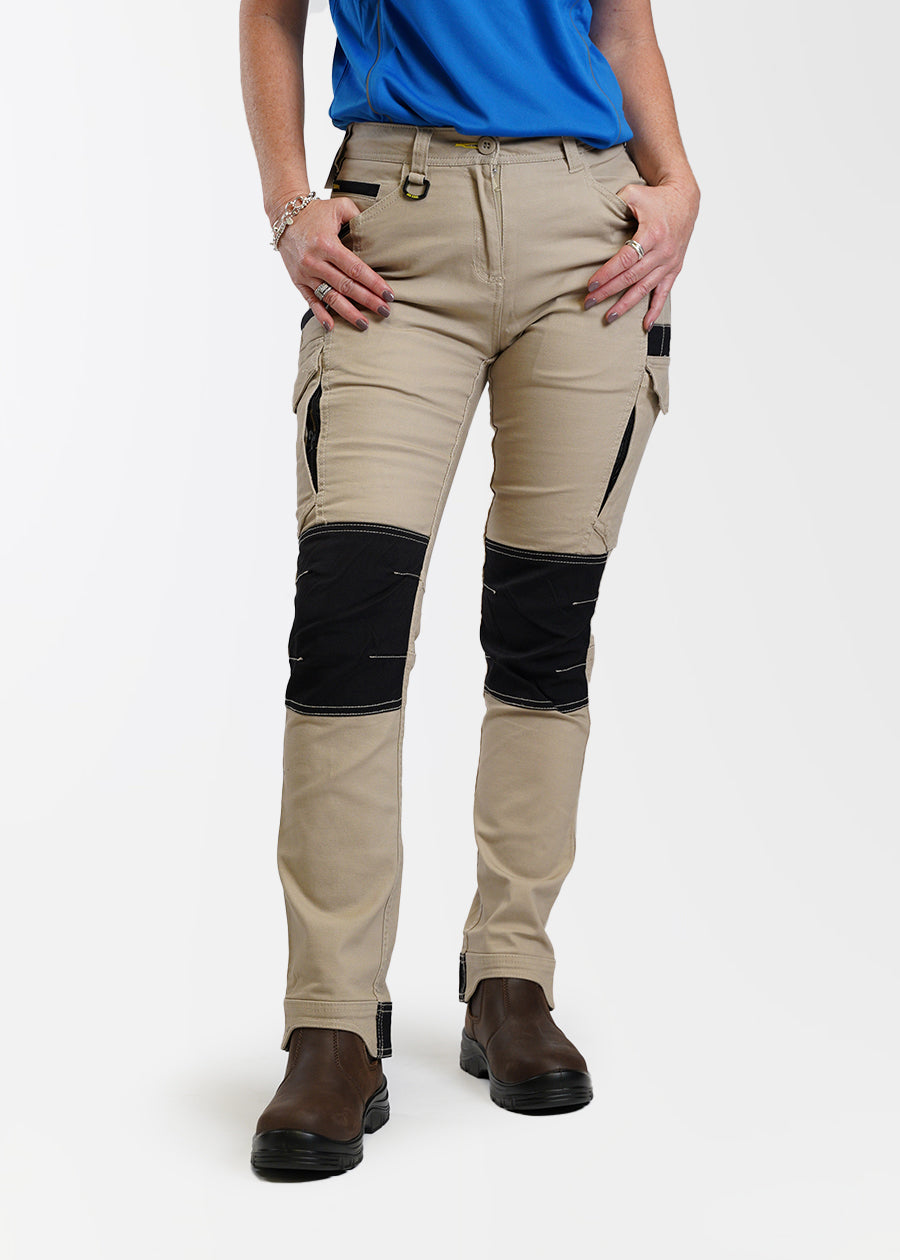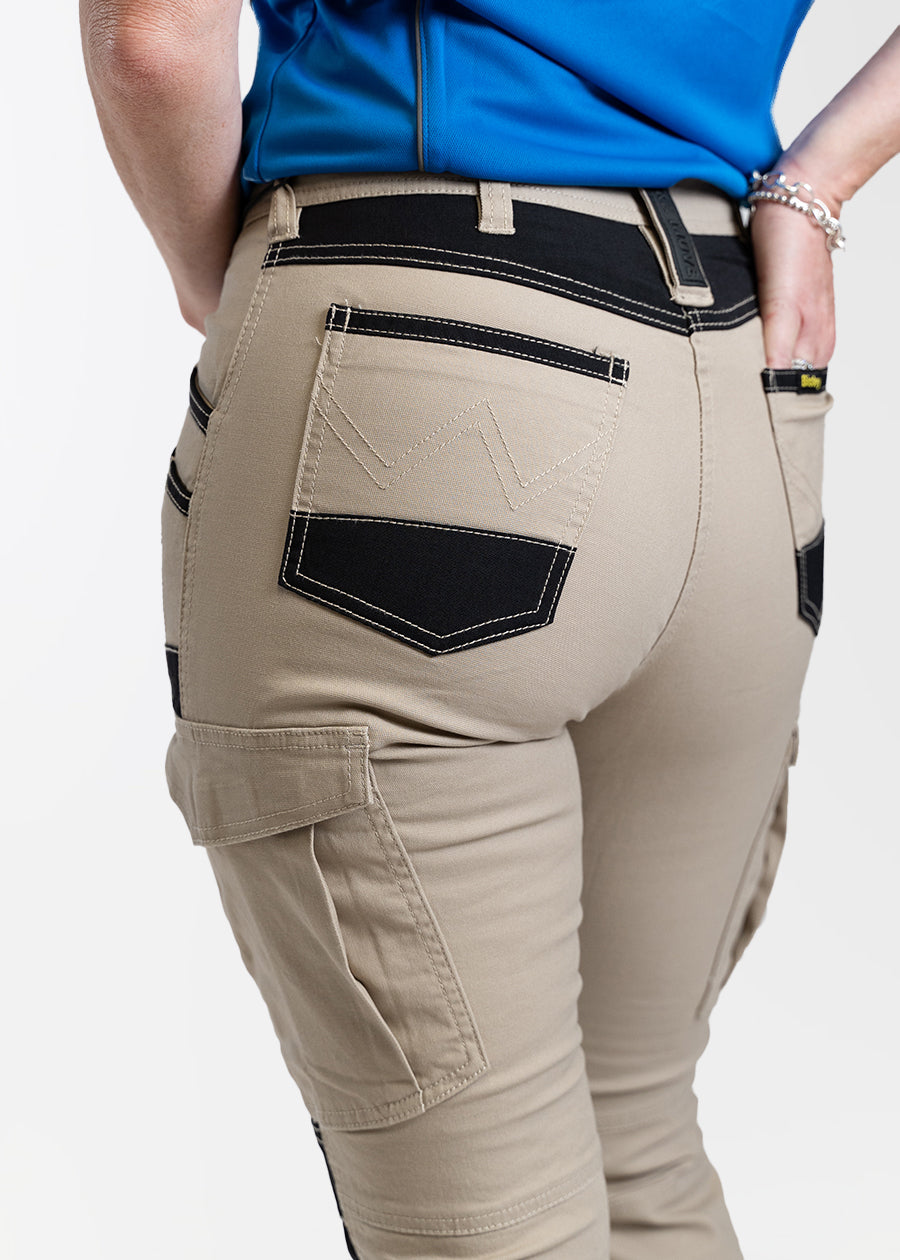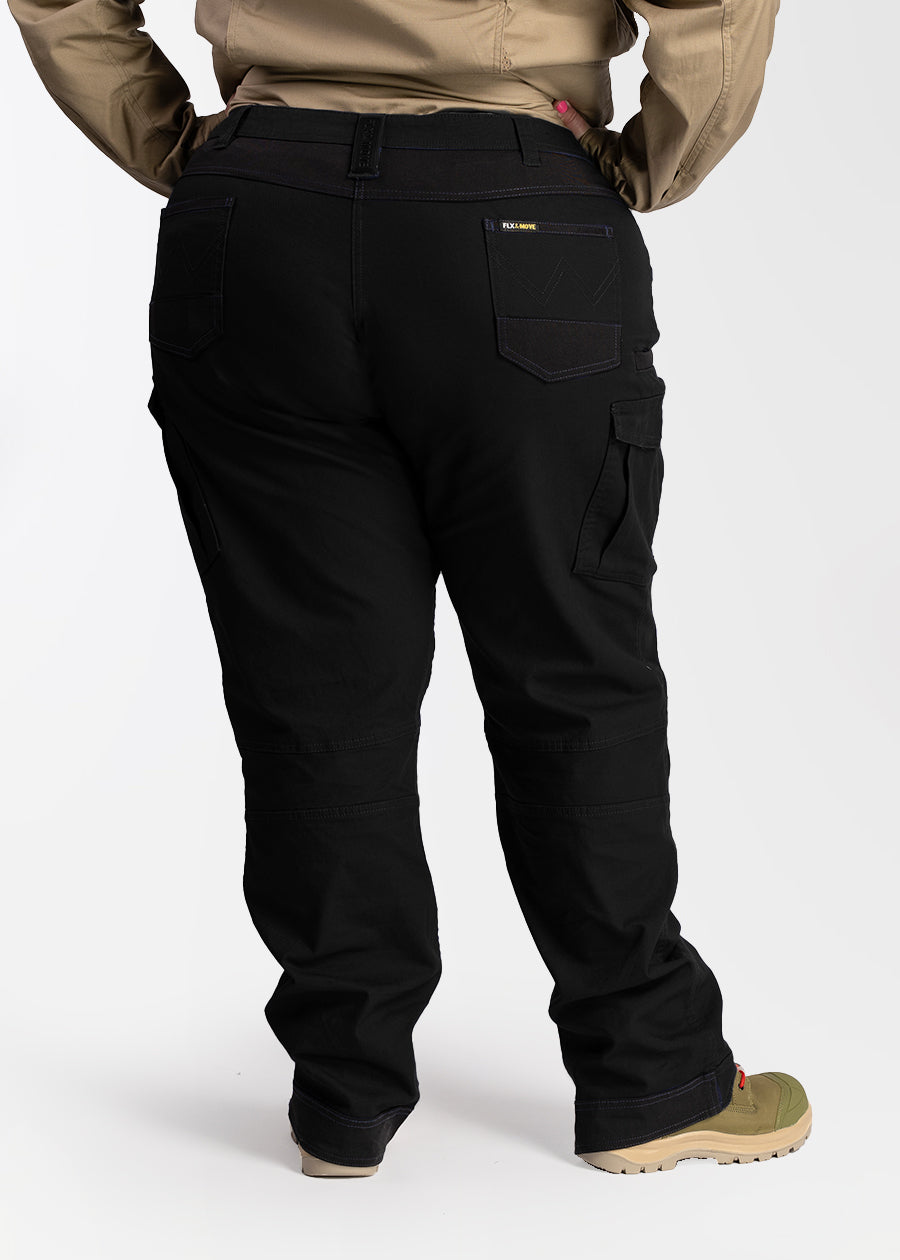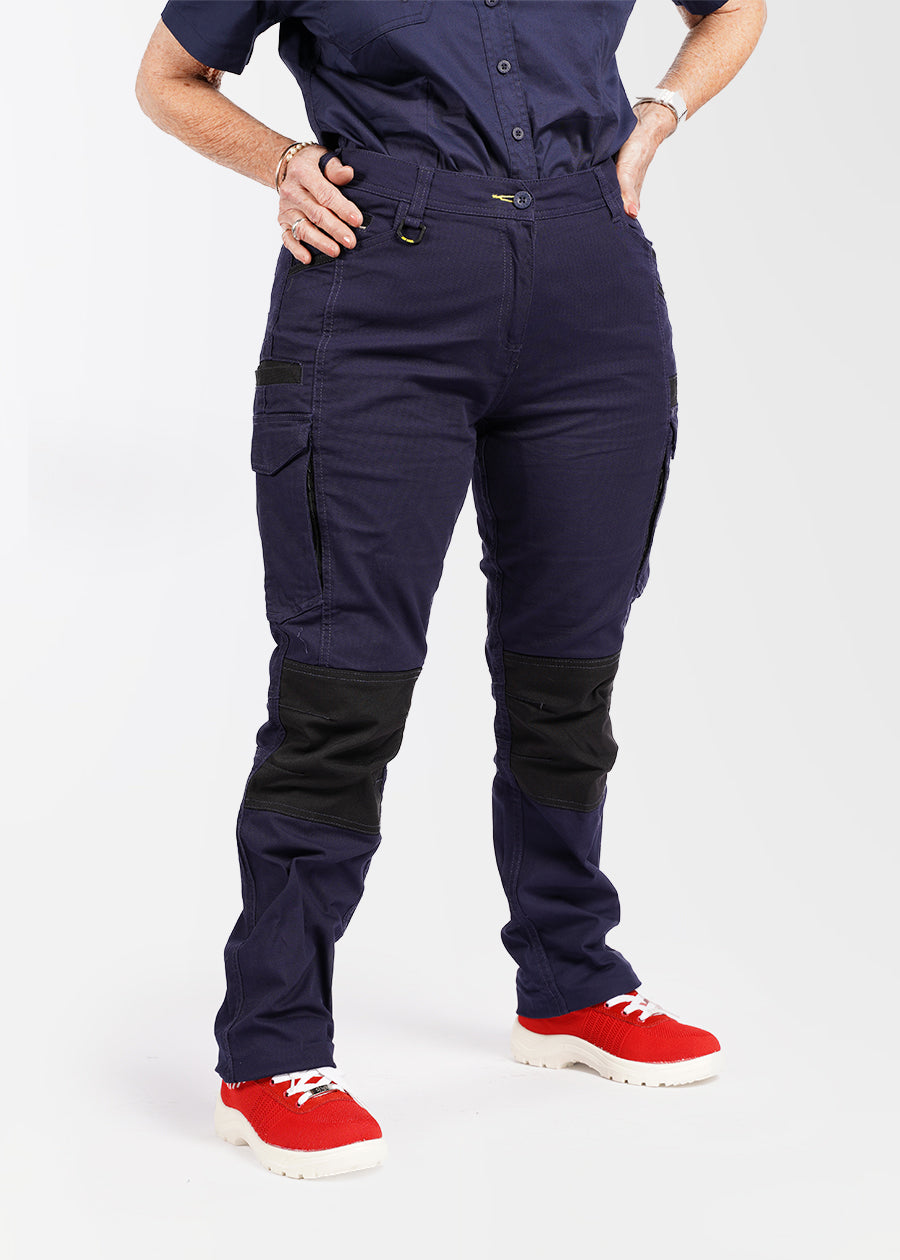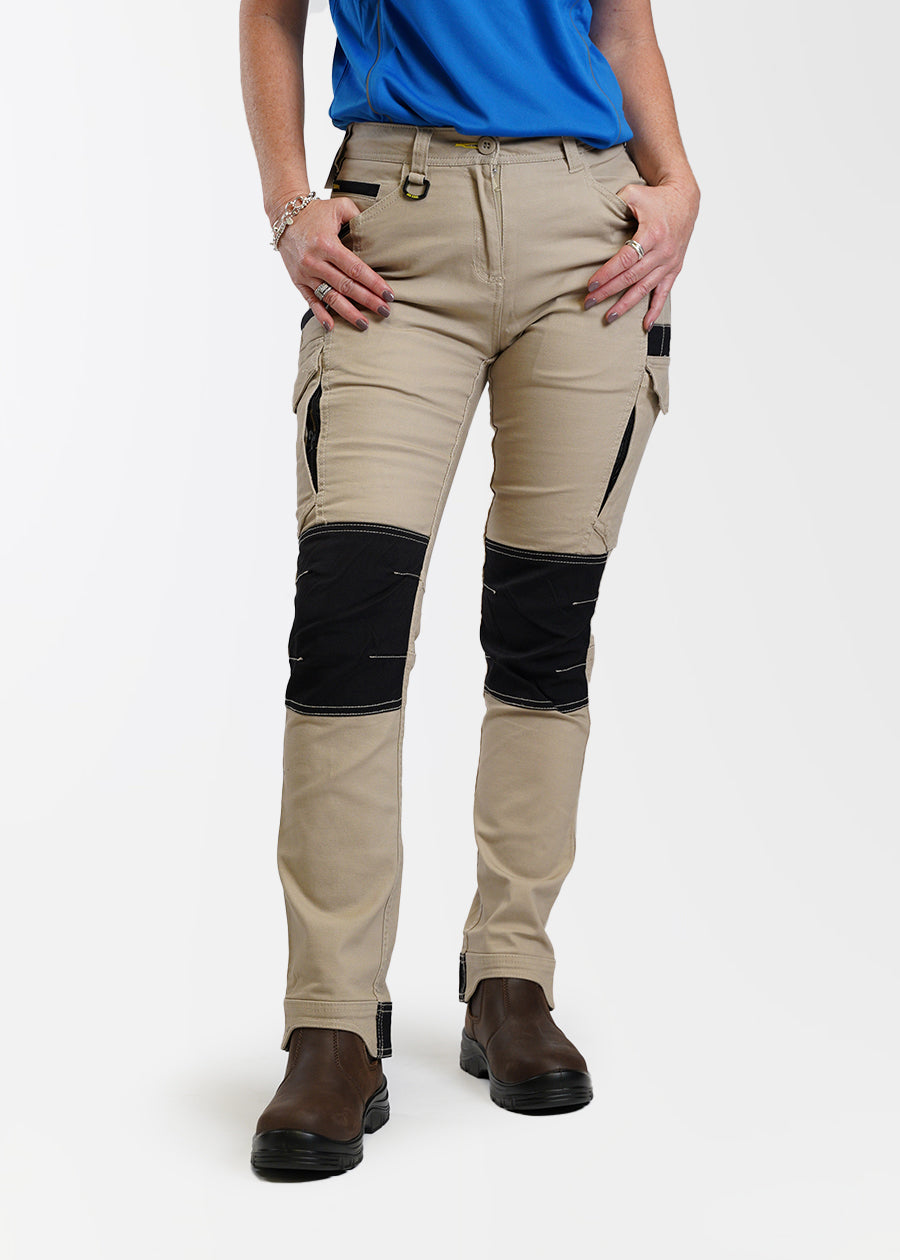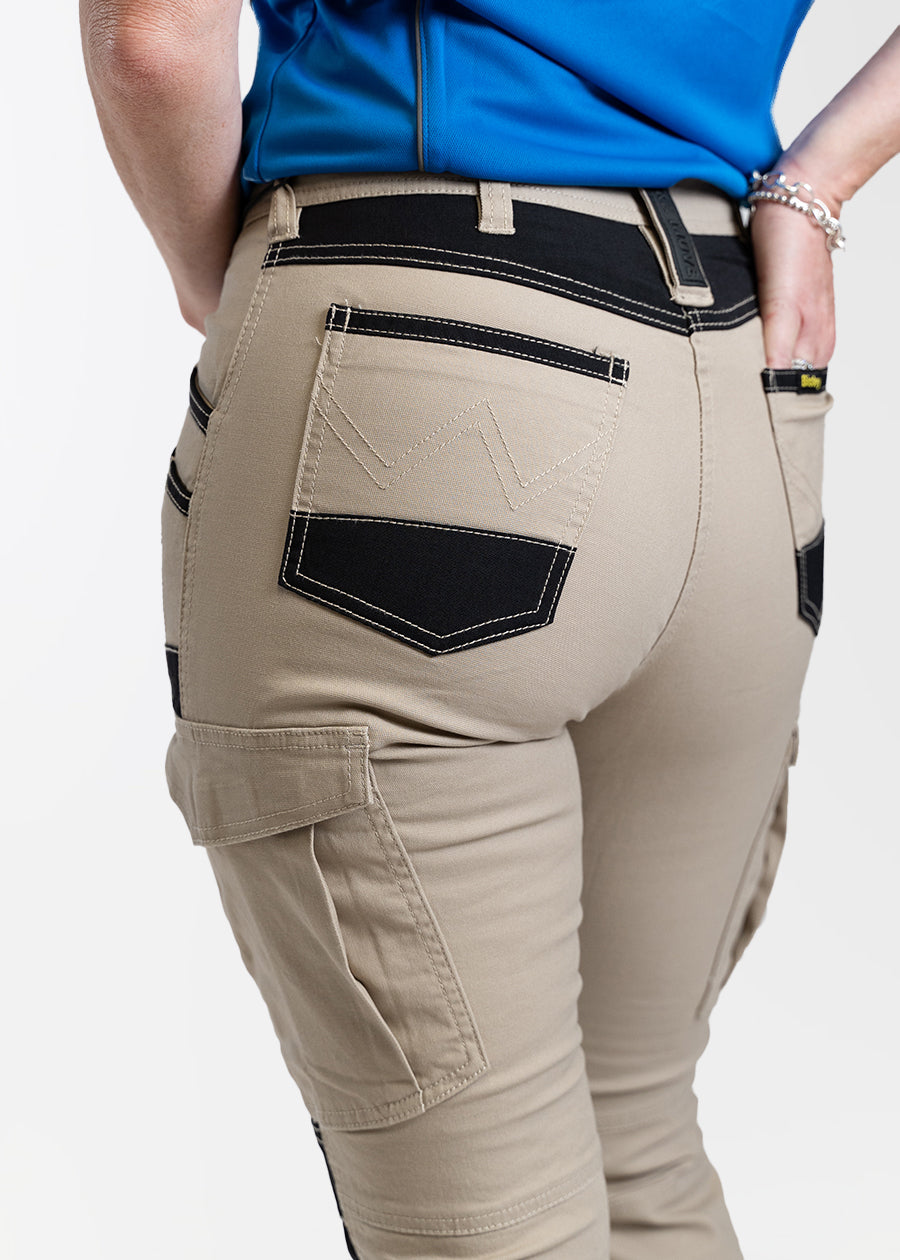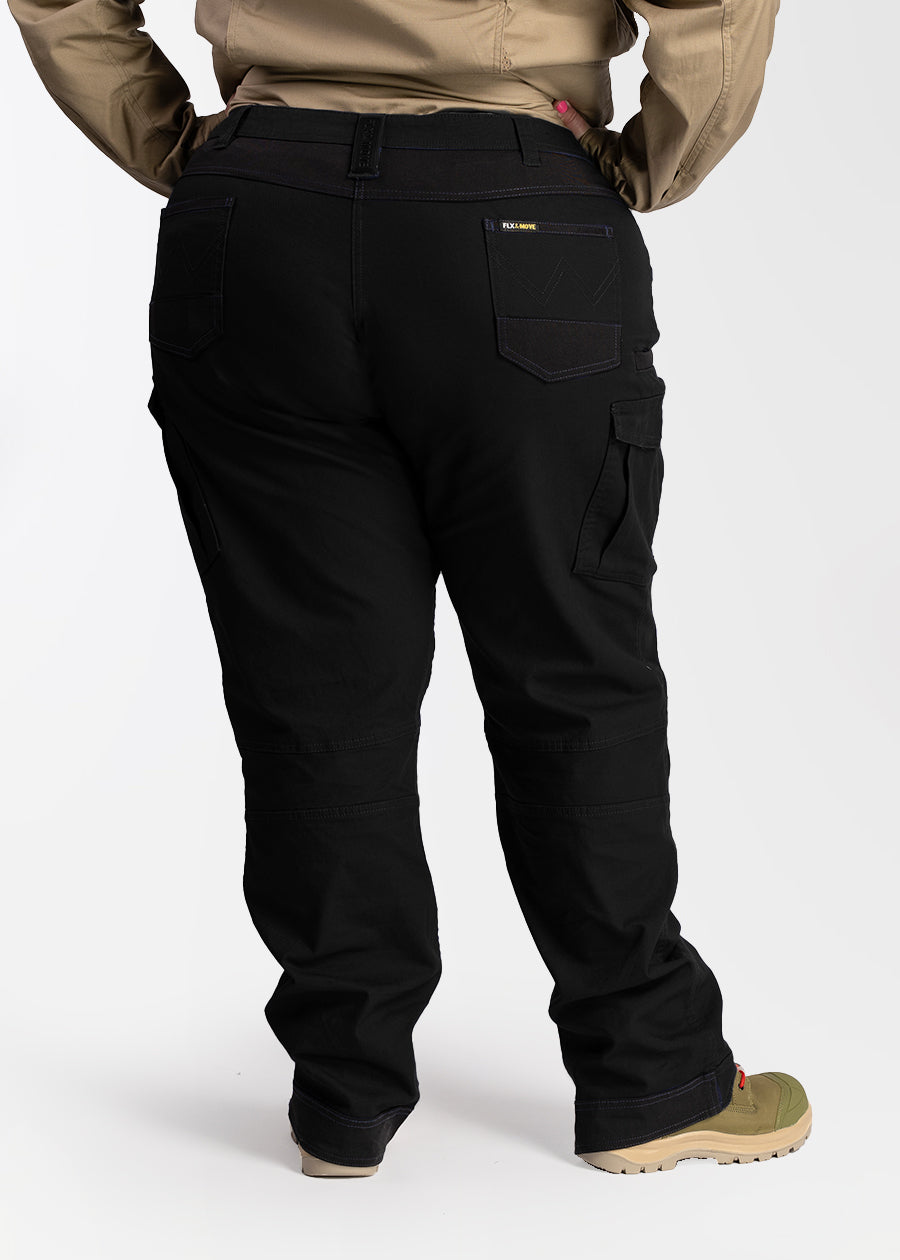 Flex and Move™ women's cargo pant
One of our top selling women's pants .. and we know why!! Stretchy, mid rise women's cargo with a load of pockets. Functional style that suits pretty much every body shape!
Would you like to be featured on "In Her Shoes"?
We are always looking to feature real women doing real and amazing things in the world of business and community. If you think you have an amazing story, job or connection, we would love to hear from you. Contact us below.
Contact us >>